Plan now to attend KAIROS Fall Gatherings
---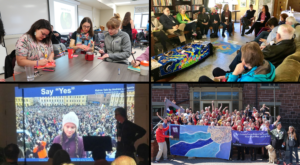 You read about the spring regional gatherings in the coastal regions here: Now, if you are in one of the three central regions, plan to attend a fall regional KAIROS gathering. The Great Lakes-St. Lawrence Region which covers Ontario and Quebec (Anglophone) will have their gathering joint with the tenth annual Covenant Chain Link event in Ottawa, October 18-19. Dr. Niigaan Sinclair will be the keynote speaker at Covenant Chain Link. A KAIROS network gathering will follow on Sunday, October 20.
ROJEP (Réseau œcuménique justice écologie et paix / Ecumenical Network for Justice, Ecology and Peace), our Francophone KAIROS partner in Quebec and other members are joining together to host an afternoon community forum in Montreal followed by an evening with the KAIROS Steering Committee on October 23. This will be a bi-lingual event. Come out to support, and network with, all of our Quebec partners.
The Cambrian-Agassiz Region (Manitoba, NW Ontario and Nunavut) will gathering in Winnipeg. The Prairies North Region (Saskatchewan, Alberta and the Northwest Territories) will most likely gather in the Edmonton area this fall. Dates and details for both of these gatherings are still in the works. Watch the KAIROS calendar and Facebook events for developments.  Email announcements will also be sent.
Regional gatherings are open to everyone. They are a mix of education, inspiration and networking. Meeting other concerned citizens and activists face-to-face is a great way to learn more about the issues you care about and to stay motivated and focused on the changes you want to see in the world. Come be part of the movement!
If you have questions or want to get involved in any of these gatherings, please contact Shannon at sneufeldt@kairoscanada.org.