KAIROS gatherings invigorate participants coast-and-coast
---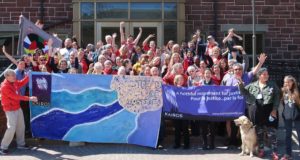 KAIROS gathered, at opposite ends of the country, just one week apart. April 26-27 was the KAIROS BC-Yukon Network Gathering with the theme: No Passengers on Planet Earth. From May 2-5 was Streams of Justice, the KAIROS Atlantic Gathering for 2019. Both Gatherings were full, rich places of connection, learning and renewal – made possible by so many small and large contributions from so many people.
Bob Worcester began the BC-Yukon Gathering with several stories, including one about a hummingbird who is putting drops of water on a forest fire – over and over again. The other animals ask her what she is doing. Her response is "I am doing what I can." The animals are inspired to each contribute their own unique offering and together they save their forest home.
The Gatherings were a bit like the hummingbird and her friends coming together – each one bringing what they can with a conviction that is important and will make a difference. Andrew Larigakis epitomized this in his Ted Talk style presentation in Vancouver. A few years ago, he would have never thought he would be leading a large, vibrant chapter of a climate change organization – Vancouver 350.org – but a series of "yeses" that felt right at the moment led him to deeper and deeper involvement and commitment to the movement. He taught the crowd, "just say 'Yes'".
Over 150 people gathered on the ancestral territory of the Mi'kmaq for the largest KAIROS Blanket Exercise (KBE) so far in Atlantic Canada. Donna Augustine shared how the spiritual teachings of the Indigenous people from the coast were taken west for preservation when colonization began in the east. She knew and believed as a child that the old ways were not lost. Her contribution was to share a small piece of that story of resilience and to share a moment of spiritual welcome with all who gathered.
The team who led the Blanket Exercise had never worked together before, but after two days of preparation in their specific KBE stream at Streams of Justice, they were well prepared to offer the voices and actions that draw people into the dramatic story as well as the health supports to see it all done in a good way.
"People found the Blanket Exercise very moving and appreciated the local content, especially honouring residential school survivor Nora Bernard for her role in bringing about the Indian Residential Schools Settlement Agreement, including the Truth and Reconciliation Commission, says Katy Quinn, KAIROS' KBE Education Coordinator who hopes the event helped strengthen the KBE movement in Atlantic Canada.
"Lots of people who attended were experiencing the Blanket Exercise for the first time. I hope it gave them new insights that they can share with family and friends so that the awareness spreads."
Kelly Campo represented the KAIROS partner Organización Feminina Popular (OFP) from Colombia at the Atlantic Gathering. In addition to the stories of women's struggles and resilience in the Women of Courage stream, she shared with everyone the stories and images of youth activism and the arts in Colombia. Canadian examples of this were present at both Gatherings, ranging from Rebecca Hamilton – a 16-year-old climate activist in Vancouver sharing her passion and conviction – to everyone joining the Sackville Youth Climate Coalition in their May 3rd climate strike in downtown Sackville with a small group from the KAIROS children's stream guiding our participation.
The music was another example of so many different contributions enriching our time together and lifting our spirits. Neither Gathering had a lead musician this time, but a song taught in a workshop spontaneously became the lunch time grace in Vancouver and when the final two workshops joined together, Ruth Walmsley had her guitar out and we were warmed by her music as well as words. In Sackville, four different musicians graced our opening and our closing with very different offerings from decades old protest songs to a round about love to a brand-new hymn about justice written for this occasion.
So many drops making the streams of justice flow on both ends of the country: banners and blankets created, friendships sparked or renewed, stories shared and lessons learned about ecological justice, Indigenous rights, justice for migrants and the Women of Courage who resist extractive industry and create peace around the world. Workshops led on topics as diverse as meeting our multi-faith neighbours to learning from the youth movement at the international climate change gatherings. All grounded by the sacred fire and the morning chapel worship services in the east and wrapped up by an optional outdoor wild church service in the west. The image of the altar from that closing worship decorated with the beauty of creation collected by many hands is one more memory of each small contribution coming together into a stream that has refreshed and invigorated the movement for justice in both coastal regions.
Photo Albums-