IPMSDL hosts third Women Resisting Extractivism Film Night
---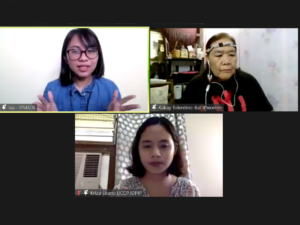 KAIROS would like to thank the international Indigenous Peoples Movement for Self-Determination & Liberation (IPMSDL) for hosting the April Session of the Women Resisting Extractivism Film Club.
Over seventy people joined the evening to watch the documentaries Ground Zero and Imaset, which were introduced by Beverly Longid through video. And listen to two Indigenous women land defenders, Kakay Tolentino of Bai Indigenous Women's Network and Kriza Leano of UCCP IDPIP. They discussed the impacts of large-dam projects on Indigenous communities, the compounded effects of COVID-19, and how the Government of the Philippines is using the pandemic to expand criminalization efforts against land defenders.
To show support and solidarity, visit the links IPMSDL shared last night:
INVESTIGATE PH is an initiative of peoples from all over the world concerned about the state of human rights in the Philippines.
KAIROS is endorsing InvestigatePH and its International Commission of Investigation into human rights violations in the Philippines, which recently released a searing report. IPMSDL also spoke about the links between the March 7 killings of nine human defenders, including two Indigenous leaders in the Philippines, events now known as Bloody Sunday, and attacks against land defenders opposing the dam. KAIROS joined member churches and other civil groups in writing an open letter to the PM calling on the Canadian government to speak out publicly against these egregious human rights violations. You can also sign on in support of this letter.
Listen to On Potok, a song that we heard last night, which deals with the Dumagat peoples land defense struggles in the Sierra Madre mountains of the Philippines.
Stay tuned for details on the May and June sessions of KAIROS' Women Resisting Extractivism film club.
Mother Earth and Resource Extraction: Women Defending Land and Water (MERE Hub) is a digital platform on the gendered impacts of resource extraction, created for and in consultation with women land defenders from across the globe who are mobilizing around large-scale resource extraction. It builds on KAIROS' work with partners on these issues. A number of videos, including the introductory video, the Gendered Side of Corporate Accountability can be found on the site.