Closer together with our global partners
---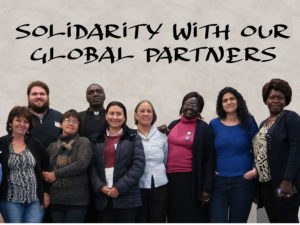 "Caremongering" is a new word and one we hope becomes part of our lexicon as the world unfolds, we hope, towards the creation of more equitable, just, resilient and sustainable societies here at home and for our global partners.
Yet, the word, "home" is a curious one. The virus reminds us of many things. One of which is how bonded we are to everyone and everything – person and non-person. Is home the building we now spend much of our time in, or the beautiful planet in which we share?
As we remain physically isolated, so too do many of our global partners. They are as concerned about us, as we are concerned about them.
Partners have been sending updates and messages of solidarity and expressions of hope. Together we hope that this common crisis and our human responses for the sake of the health and wellbeing of humanity and the planet will strengthen our connection to one another and our commitment to life. Partners also express grave concern that this pandemic has exposed and magnified existing inequities, vulnerabilities and conflicts and that it is being used to mask and, in some cases, increase human rights abuses and violence, including violence against women.
Recently, Jennifer Henry, KAIROS Executive Director, sent a message of care and solidarity to partners. They were quick to respond. They are following the public health directives in their countries, many are working from home, but they remain gravely concerned about the communities they accompany. They are finding creative ways to continue to support and advocate for the most vulnerable populations with whom they work including women, Indigenous peoples and environmental and human rights defenders. Here is a sampling of partners' message to us: 
---
Dear KAIROS sisters, thank you for your timely and warm message; indeed, we are going through a unique moment. We are experiencing great uncertainties and we are extremely concerned about what the consequences will be for the communities with whom we work. They are the most vulnerable, such as the Amazonian Indigenous communities, who, at the time of the conquest, were decimated with flu and other diseases; they now face maladies such as hepatitis B, malaria, etc. And it is true that they do not have access to adequate healthcare. No cases have yet been reported in these communities; we know that mobility is also restricted there. We [AE staff] are in home isolation, but this situation allows us to work more productively in other ways. With the help of communication systems, we hope to remain in touch. We are very happy to receive your message. Thank you for the support.

Ivonne Ramos, Mining Justice, Gender and Indigenous Rights, Acción Ecológica, Ecuador
It's good to know that you are all doing well. It is also good to know that we are thinking about our friends and the communities we work with; the warmth of friendship is felt even from a distance. It's important not to lose the spirit of solidarity. You have no idea how Jennifer's message encourages me in these moments of crisis. Of course, the work doesn't end from our homes from where we continue to work on our tasks in support of life. Let's stay in touch. Stay well and I send you all big hugs.

Natalia Atz Sunuc is a Maya Kaqchikel woman land defender from Guatemala and member of the Latin American Network of Women Defenders of Social and Environmental Rights
We express our thanks for that heartfelt message. It's a situation that puts us all on alert. On the national level, the necessary preventive measures are being taken, and we are abiding by these measures as best we can to safeguard life and with the faith that this epidemic will end soon. A big loving hug from the entire OFP team.

Organización Femenina Popular (OFP), Colombia
Note: KAIROS has also learned that all OFP social services have been suspended for the time being, including psychosocial support, workshops and travel. The hundreds of women who the OFP supports live in various municipalities across three departments (like provinces), thus suspending travel is quite important. There is an 8:00 pm curfew in the Department of Santander.
The OFP has voiced grave concern about the assassinations of social leaders and the rise in  gender-based violence  that have accompanied the spread of COVID-19 in Colombia. On March 25, we learned  that  Carlota Isabel Salinas Pérez,  an OFP leader,  was murdered outside her home in San Pablo, a municipality in the department of  Bolivar. KAIROS has written an urgent action in English and Spanish condemning this feminicide and urging all levels of  the  Colombian government  to immediately  adopt the OFP's recommendations  as well as  support  and protect  grassroots organizations and  social leaders  who are  on the forefront  in the defense of  peace and public health. 
This crisis forces us to reflect on the ways that we, societies, relate to nature, with our non-human siblings.

Ivonne Yanez, founding member of Oil Watch International
Your message of support to us during this difficult period of the Coronavirus pandemic goes straight to our hearts.

Yes, we must observe the rules of hygiene and health recommended by the WHO and our national authorities in charge of health, but also we must implore more the grace of the Eternal so that its word and promise repeated in the Psalms 91: 1- 10 is shared among us (KAIROS, its partners and the vulnerable populations benefiting from our support) in this difficult situation.

Gérard Kwigwasa, Executive Secretary, Héritiers de la Justice, Democratic Republic of Congo
Héritiers de la Justice (HJ) reports that assemblies for faith groups are banned for the time being.  Furthermore, meetings of less than 20 at a time circumscribes HJ Women, Peace and Security programming. HJ staff are working at the office due to unreliable power supply at home.
CENCO (the National Episcopal Conference of the Congo – Catholic) and the ecumenical Platform of Religious Confessions and the Pentecostal denominations have released statements.
According to Médecins Sans Frontières/Doctors Without Borders there are only some 50 cases of COVID-19, and the national health system is overextended and under resourced.  Moreover, the population in eastern DR Congo has not yet recovered from nearly 2,300 deaths from the Ebola virus since August 2018. As in many locales, the DR Congo can anticipate an underreporting of reported COVID-19 cases.
Thanks for your concerns and prayers, we too are worried for you, there is nothing we can do other than praying for all of us, may the good Lord protect us.

Agnes Wasuk, Coordinator, South Sudan Council of Churches – National Women's Programme (SSCC-NWP)
We have also received a Pastoral Message from the SSCC to the People in South Sudan requesting that places of worship and fellowship meant for religious events and church-related schools remain closed in order to avoid the spread of the coronavirus COVID-19.
We must also be particularly aware exactly what we normally do, is what we should not do now, if we want to protect life."

Fr. James Oyet Latansio, General Secretary, South Sudan Council of Churches (SSCC)
Thank you very much for your lovely gesture and words of solidarity which comes at times we are all sharing the same pain…. A small virus united us all in pain, fear and panic. We remain saddened of the loss of lives all over the globe inflicted by this virus.… It had exposed how fragile our global health care system is and exposed decision makers who became helpless.

This is a time for prayers and solidarity as we share the same enemy and only with our human core values we can overcome. Stay home, be with your loved ones, care for your neighbor and pray for all those who are in pain.

Ramzi Zananiri, Executive Director, International Christian Committee of the Department of Service for Palestinian Refugees (DSPR)
A week ago, Bethlehem was ordered for a closure due to the outbreak of the Coronavirus. Movement is restricted even inside the city and for necessary only. This fast decision from the local authorities helps our city to keep the situation under control. All the holy sites, hotels, schools, universities and banks are closed for the moment, our children follow up with their teachers online, and there are no visitors to the town at all. We hope that this situation will not last longer and will change for better situation soon and that we will be able to welcome our friends again in Bethlehem in the nearest future! At the next few coming hours there will be a storm and high wind, dust and rain! We send you our warm greetings, blessings and wish you all a lot of health! And ask you to keep us in your thoughts and prayers, we are going to stay hopeful and strong.

Lucy Talgieh, Women's Project Coordinator of Wi'am: Palestinian Conflict Transformation Center
On March 26, Lucy shared an inspiring article, 'If we can overcome coronavirus, we can overcome the occupation', which talks about the volunteers and donations which are being mobilized to support locked-down Bethlehem. Lucy is quoted throughout: "The collective responsibility gave residents a feeling of commitment, that they are all responsible for what happens," she explains. "the determination was amazing. The hotels transformed into alternative hospitals. The bakeries spread the word on Facebook, TV, and other media that they would be giving out free bread. Signs were put up on bakery storefronts that those who cannot pay will get free bread. Fishmongers did the same."
Hello Kairos Canada, Thank you for this! We are glad for your solidarity. We also send ours. Longer messages and exchanges can follow, as the minds begin to clear. We were only able to preposition support packs with our Rise Up families in two communities before they closed movement. Still trying to get support to others. Our prayers are with you, as we also feel yours with us! God is with us! God is waiting for us! Thanks for being here for us too! In solidarity,

Becca Lawson, Ecumenical Voice for Human Rights and Peace in the Philippines (EcuVoice)
Thank you for sending us the message. We also hope you are all doing well. Here in Baguio the first confirmed case of COVID19 has just been announced yesterday. It's been a week of lockdown and we've likewise been working at home. The country's health system is almost incapable of dealing with the situation. But instead of health/medical support, a few hours ago our congress has granted President Duterte emergency/additional powers. We are bracing ourselves because the president has undoubtedly been wanting to have sole control of the country.  Be well.

Bestang Sarah Dekdeken, Cordillera Peoples' Alliance (CPA)
Thank you for your kind words of concern and solidarity! We hope that all staff and networks of KAIROS remain well and in high spirits, despite the current challenges. Please know that we are also thinking of you all. 

Together with Johanna dela Cruz from National Council of Churches of the Philippines (NCCP), I am currently in Switzerland, and stuck so to speak for nearly two weeks already, after our engagement at the UN Human Rights Council, because of the COVID-19 impacts on flight schedules, country restrictions and Philippine government responses to the outbreak, coupled with the arrest warrant that awaits me in the Philippines in relation to a malicious case filed by the Philippine National Security Adviser. You may find details of our case in the attached urgent appeal. It might take us sometime to go back to the Philippines because of the volatile situation back home and the flight schedules and rates. 

Meanwhile, Johanna and I are working from Switzerland, with our colleagues back home on the aid and relief efforts and advocacy for poor communities whose mobility and livelihoods have been impacted because of the lockdown in relation to COVID19 and for political prisoners considering the dire situation in jails. Our president also now has emergency powers, including questionable and vague rule-making powers and with the power to penalize "fake new" purveyors. Politicians have been given VIP treatment in terms of testing and isolation, while frontline health workers and doctors and ordinary folks have died without knowing results of their tests, if they were tested. 

This is indeed challenging times for all of us. Which is why your concern and solidarity are very much appreciated. We'd be sure to update you on the developments. I hope you all and your loved ones are healthy and safe. Again, our deepest appreciation. 

Cristina Palabay, Karapathan, Alliance for the Advancement of People's Rights, Philippines
KAIROS has posted a statement from the National Council of Churches in the Philippines (NCCP) urging  "the Philippine government to enhance whole-of-society coordination mechanisms by involving civil society groups and engaging the communities in responding to this emergency, rather than a whole-of-government military approach."  
On March 27, NCCP released another press release expressing concern that last minute amendments to the Bayanihan To Heal As One Act signed by President Rodrigo Duterte on March 24 "may be used to curtail the Filipinos' constitutional right to free speech and expression, which are necessary to promote transparency and accountability and ensure good governance."