Intro to Global Climate Justice Week
---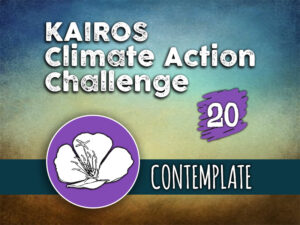 This week, Climate Action Month looks at climate justice issues on a global scale. The impacts of climate change are not borne equally or fairly.
"Climate change is happening now and to all of us. No country or community is immune and, as is always the case, the poor and vulnerable are the first to suffer and the worst hit."

UN Secretary-General António Guterres
Countries in the Global South are the least to blame for the climate crisis and yet suffer the most from its impacts. Climate change amplifies inequality – across income, gender, age, urban and rural divides, and more.
Our content this week will explore issues of displacement, the gendered impacts of resource extraction, sacrifice zones, and climate adaptation. On Tuesday, we'll hear from women in Africa who are organizing to defend their land and livelihoods against large resource extraction, through the work of KAIROS partner, WoMin. On Wednesday, we'll look at the work of Oil Watch Africa in the Niger Delta of Nigeria.
This week coincides with the United Nations Global Goals Week, an annual week of action, awareness, and accountability for the Sustainable Development Goals, and the Global Week of Climate Action, which will culminate in Friday's Global Day of Climate Action. Fridays for Future has called for the global day of action in response to last year's Global Climate Strike on September 27. We hope you will seek out an opportunity for action in your community this coming Friday or join a virtual event.
Before we jump in with this week's theme, we'll take a moment today, as we do every Sunday, to reflect and take pause.
TODAY'S RESOURCE
Check out Sarah Arthurs' blog. Sarah has committed to write 34 posts from September 1 to October 4 as part of Season of Creation.    
---
TODAY'S ACTION
Take a moment today to contemplate this week's theme. We've provided an option below, but you are welcome to use a resource or devotion familiar to you:
Read this week's devotion from Presiding Bishop Michael Curry of the Episcopal Church in Renewing, repairing and restoring our commitments to God, to one another and to all of creation, a series of weekly devotions by the leaders of the Anglican Church of Canada, Evangelical Lutheran Church in Canada, The Episcopal Church, and the Evangelical Lutheran Church in America released for the Season of Creation.
---