Climate Action Month Day 12: Trans Mountain Pipeline expansion
---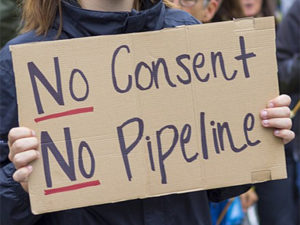 KAIROS released a statement on April 25, 2018 to affirm its support of First Nations peoples and opposition to the Trans Mountain Pipeline. The federal government's position on this pipeline expansion has profound implications for reconciliation with Indigenous peoples in Canada, as it violates the UN Declaration on the Rights of Indigenous Peoples and Section 35 of the Constitution Act, 1982. The federal government's position contradicts the Prime Minister's promise to work towards "a renewed nation to nation relationship with Indigenous peoples, based on recognition of rights, respect, co-operation, and partnership." The unintended impacts of resource development projects are disproportionately borne by Indigenous communities, particularly Indigenous women and girls.
Today's resource: Are you confused by the convoluted history of the Trans Mountain Pipeline Expansion? Click through the timeline below to better understand this development project.
For more information please visit https://pull-together.ca/ where they are raising legal funds to support First Nations to stop the Trans Mountain pipeline and tanker project. Pull Together is a great way to build community, raise money, and have a lot of fun!  
ICYMI 
A proposed copper and gold mine has been rejected twice by the federal government for its impacts on Fish Lake, an area considered sacred by the Tsilhqot'in. But B.C.'s mining laws allow the company to move ahead with exploration work anyway. That doesn't square with Tsilhqot'in law and the community says it won't back down. 
Read the UN Declaration on the Rights of Indigenous Peoples & consider how this should impact all Canadians.
After passing through the House of Commons, the bill that would have harmonized Canadian law with international law, died on the Order Paper in the Senate in June 2019. Advocacy will continue into the next Parliamentary session. (Source: KAIROS)