Winds of Change: Education for Reconciliation update in BC
---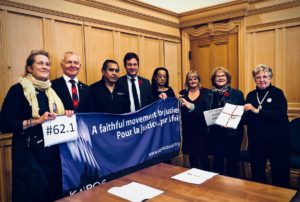 On October 30, 2018 a delegation consisting of Janet Gray (BC-Yukon KAIROS Regional Representative) Susan Draper (KAIROS Victoria), Rev. Laura Kavanagh (KAIROS national steering committee member), Ruth D'Hollander (Aboriginal Neighbours), and Indigenous leaders and educators, Nella and Alex Nelson, met with:
The Honourable Rob Fleming, Minister of Education;
Veronica Harrison, Sr. Ministerial Assistant to Minister Fleming;
The Honourable Scott Fraser, Minister of Indigenous Relations and Reconciliation, and 

MLA for Mid Island-Pacific Rim

Ann Marie Sam, Sr. Ministerial Assistant to Minister Fraser

Kim Lacharite, Executive Director, Learning Transformation, Ministry of Education.
At this 30 minute meeting we presented the petition calling on BC to implement TRC Call to Action #62.1.
The meeting was friendly and frank, beginning in a good way with a traditional acknowledgment of the territories and a reminder from Alex that we were gathered in this room to bring the petition to life.
All agreed BC has started to climb the mountain that is reconciliation and in fact, is showing real leadership on the Indigenization of the curriculum in comparison to many other provinces. We urged the Ministers to continue to listen to Indigenous voices and properly resource the new curriculum that requires all students to have a basic understanding of our shared history with the Original Peoples of BC. KAIROS' work on the Blanket Exercise was praised and we presented the Ministers with an invitation to host a KAIROS Blanket Exercise for all members of government on a date and time of their choosing.
To everyone who signed this petition, thank you for all your support and know that we will continue to monitor and push for the realization of all 94 Calls to Action. These petitions will be presented in the Legislature soon. All our relations!