Voting for change and human rights in the Philippines
---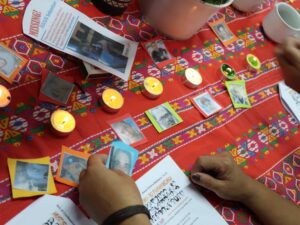 Filipinos go to the polls on May 9 to elect a new leader and government. This could be a moment for positive change, or a continuation of well documented human rights violations that have escalated under President Durante's regime.
The situation in the lead up to the elections is very concerning.  Red-tagging, the practice of criminalizing and stigmatizing dissent, has intensified, including red-tagging of internationalists. Church leaders who are participating in international observer missions for the elections are also targeted. On April 11, Rev Catherine Chang, from the Presbyterian Church (USA) was red-tagged.  KAIROS' partner, the National Council of Churches in the Philippines (NCCP), makes a powerful call to Filipinos to vote "for servant-leaders who put in their agenda the change that we want to see in our society."
The NCCP sees the very act of engaging in the democratic process as an act of empowerment and hope.
"In these tumultuous times, it is important for Christians to actively participate in community affairs such as the electoral process," the NCCP writes in its statement on the upcoming elections. "This in itself may not entirely give us the best results for the country, but participating in this process, and constantly engaging in the affairs of our nation assure us of a dynamic democracy that our people have historically fought hard for."
The NCCP writes: "Let us scrutinize the candidates' platforms and agenda for government. Let us define the change we want, and elect candidates who will bring those aspirations for change to reality."
KAIROS Canada stands in solidarity with its partners at this critical time and prays for positive change and greater respect for human rights for all Filipinos.