UNITE! 16 Days of Activism To End Violence Against Women And Girls
The 16 Days of Activism against Gender-Based Violence is an annual global campaign calling for an end to violence against women and girls. The campaign commences on 25th November, the International Day for the Elimination of Violence Against Women and ends on 10th December, Human Rights Day.
Each year, KAIROS and its Canadian and global partners join the global campaign by centering experiences and providing education and information to raise awareness and generate action to end violence against women and girls in communities around the world. This year, we are highlighting the urgency to address intersections of various forms of gender-based violence through a photo series of voices united against the pervasive violence and breach of women and girls' human rights worldwide.
The theme and activities of the 16 Days of Activism in 2022 are under the global banner "UNITE! Activism to End Violence against Women & Girls." The goals are to mobilize civil society, women's rights organizations, governments, and human rights defenders in the prevention of violence against women, to stand in solidarity with women's rights activists, to support feminist movements around the world to resist the rollback on women's rights, and to call for a world free from violence against women.
How can you take and inspire action?
For more than two decades, KAIROS has collaborated with women human rights defenders, grassroots women's organizations, and other partners to call attention to the impacts of gender-based violence, and to support Women of Courage leading initiatives and movements for peacebuilding, human rights, and ecological justice.
Follow our 16 Days of Activism photo campaign here on our website and on social media and stand UNITEd to take action worldwide to end gender-based violence.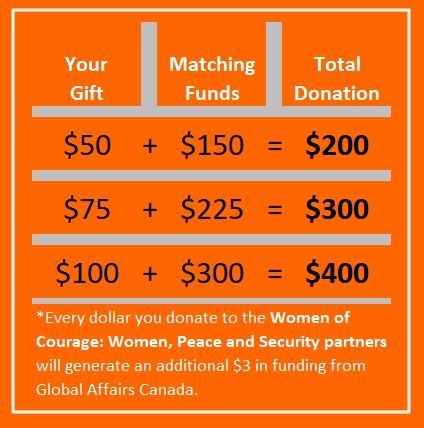 Join KAIROS to amplify the voices and work for human rights and ecological justice by committing support for our Women of Courage partners in Canada and in the Global South. With your help, together we can support a world free of gender-based violence. Your donation makes this work possible. Every dollar you donate to KAIROS' Women of Courage: Women, Peace and Security program generates an additional $3 in funding from Global Affairs Canada.
Thank you for your support!
---
Click on the images below to visit each Facebook posting and read their 16 Days of Activism Against Gender-based Violence message:
| | | | |
| --- | --- | --- | --- |
| Tia Kennedy | Devora Cascante | Jackcilia Salathiel | Juan Racheal Roberto |
| Hana Elias | Kelly Campo | Rachel Warden | Ed Bianchi |
| Daila, Imad, Lucy | Tarek Al-Zoughbi | Arek, Zoughbi, Jackcilla | Chantal Bilulu |
| Silvia Vasquez-Olguin | Radia Mbengue | Cheryl McNamara | Vernie Diano |
| Noble Wadzah | Yusra Shafi | IPMSDL, Philippines | Jane Thirikwa |
| Collage | Video – COP27 | | |