Streams of Justice Schedule, May 2-5, 2019
---
Now is your chance…build skills and relationships, contribute your gifts…join a movement!
Creating a climate for peace and social action

Equipping new and renewed advocates

Learning and working together for change
Streams of Justice is your opportunity to delve deeper into the social justice commitments that are close to your heart, in the company of others equally committed to working for positive change. This three-day event, open to all, will build the Atlantic ecumenical social justice movement, increasing participation, diversity, effectiveness and commitment.
Location overview: Streams of Justice, the KAIROS Atlantic Gathering for 2019 will be held at Mount Allison University in Sackville, New Brunswick on the unceded and ancestral territory of the Mi'kmaq. Centrally located in the Atlantic region, Mount Allison is a half-hour drive from the Moncton airport.
Everyone is welcome. Streams of Justice will bring together experienced and aspiring grassroots activists (all newbies welcome!) from across the Atlantic.
This is an intergenerational Gathering. That means that we aim to have half of the 200 participants be young adults (18-35). While those younger than 18 are welcome to attend, KAIROS asks that they be accompanied by an adult who will act as a guardian. Families are welcome, and childcare will be available for main sessions with advance registration.
This is an ecumenical Gathering and all people are welcome, regardless of religious affiliation or no affiliation. A focussed theological component will be offered as a pre-conference event and in the workshop times.
All ages are welcome! Everyone under 18 years old must come with a guardian. Teens are welcome to participate fully in the general program. Children aged 6 to 12 years will have their own special justice focused program, potentially including an off-site farm visit and food security lunch on Friday. Childcare will be provided for children ages 2 to 5 years old. All activity times in the overall program (with the exception of early morning and late-night optional activities) will be intergenerational or there will be separate children's program/childcare options available.
Local Options
Local folks who are not able join us for the full weekend are invited to participate in one or all of the following events.
Thursday, May 2nd: Allyship: A Biblical and Theological Commitment
The injustices of our world compel people of faith and conscience to come alongside marginalized communities in solidarity and allyship. This interactive workshop, oriented to folks of Christian faith, will look specifically at the requirement of allyship through a biblical lens. Do biblical texts have anything to say to us about this contemporary idea of allyship? Does a conversation between stories of Christian faith and stories of our time, suggest any insights for sustained activism? Come and join us as we explore these questions, bringing social theory and biblical reflection together in a political theology of action.
Jennifer Henry, KAIROS Executive Director, will lead this pre-gathering session which can be attended independent of Gathering registration. All are welcome. No cost. 1:30pm – 4:00pm.
Friday, May 3rd: A Feast for Justice: Celebrating Arts and Activism
Jennings Hall, 6:00 PM – 9:00 PM
Keynote: Kelly Campo, Organización Feminina Popular (OFP), Colombia – a KAIROS Partner.
Kelly will be talking about the power of arts in the OFP's youth group in Colombia. Additional presentations from visual and spoken word artists in the region.Join us for dinner, music, presentation, and networking. Invite your friends! Included in full Gathering registration. Tickets will be available on the registration page.
*Lend a special piece of your memorabilia from a life of activism – a T-shirt, poster, button, artwork…or send a photo – new or old – to be part of a slideshow. Send photos to events@kairoscanada.org by April 28.
DJ Gabriela Jimenez will prepare a playlist of activist songs. Send requests to gjimenez@kairoscanada.org by April 28. The evening will conclude with a musical jam session. Bring your instruments and any activist sheet music to share.
Saturday, May 4th: Mass Blanket Exercise
Alumni Field, 1:30 PM – 4:00 PM
Join us for the largest Blanket Exercise ever in Atlantic Canada. An experience to build understanding of our shared history of Indigenous and non-Indigenous peoples. Elder opening and special guests. All are welcome.
The KAIROS Blanket Exercise is a visual and experiential way to represent colonization in Canada and its impact on Indigenous peoples. This really big Blanket Exercise is a coming together of hearts and minds in a collective commitment to build reconciliation based on justice for Indigenous peoples. You do not need to attend the whole Gathering to be part of the Mass Blanket Exercise. We hope that there will be hundreds of additional participants from Sackville and the surrounding area. Invite your friends and neighbours.
---
Optional Activities
Morning Worship: Vince Zelazny from Fredericton, Quakers (RSOF) will be leading the worship on May 3rd, Friday, Emily Duggan from Louisburg on May 4th, Saturday and along with Kenn Stright who will focus on Gender issues/women of courage. Jeff Murray from Sackville will be leading the worship on Sunday morning with a focus on migrant/refugee justice. Glen Chafe will provide musical accompaniment on all the three mornings.
Yoga: Deepa Venkatesan, an internationally certified instructor (world Yoga Alliance, 200 hrs) will be leading a 60-minute yoga session on Friday and Saturday from 7 am to 8 am. The practice is suitable for beginners and is about exploring energies as per our comfort zones with our bodies. Join this yoga session to learn more about breathing techniques and postures that represent water and synergy.
Sacred Fire: A traditional Sacred Fire will be lit on Thursday, May 2 and will burn for the duration of the Gathering. The Sacred Fire provides a connection between the physical and spiritual worlds. It is a space for prayers, offerings and quiet reflection. Brett Colfer will be our Fire Keeper. Brett's partner Andrea Colfer will be available to offer emotional and spiritual care throughout our Gathering and she shared these teachings. If you want to approach the Fire you should be clean of alcohol and illicit drugs for four (4) days in advance in order to be of sound mind, body and spirit. Women are also requested to wear ankle-length skirts while at the Sacred Fire. There will be some extras if you don't have one. Brett, Andrea and the KAIROS community are respectful of all gender expressions and everyone is free to make a personal choice.
---
Workshops
Posters as Activism, Gabriela Jiménez
May 3, Friday from 1:00 pm to 2:30 pm: The visual arts are central to politics, especially activism. This 90-min workshop will briefly consider the role of the visual arts in politics. We will then turn our focus to three political posters. Through visual analyses, we will identify the various artistic strategies involved in making political posters. Participants will then have the opportunity to apply their recently acquired knowledge by creating a poster of their own that responds to a topic covered in their stream.
A social media movement. Social Media Advocacy Campaigns 101, Deepa Venkatesan
May 3, Friday from 1:00 pm to 2:30 pm: A seminar-style brain storming workshop that educates and informs participants about the best means to use social media and web for furthering activism and bringing about a change. This workshop will challenge groups of participants, according to their streams, to come up with their social media strategies for a given hypothetical campaign and pitch it to the rest of the participants.
Liturgies of Justice: Public Witness as Worship, Jennifer Henry
May 3, Friday from 1:00 pm to 2:30 pm: This workshop will look at how public social action, such as vigils or marches, can be understood as acts of prayer in the Christian tradition. Drawing from important examples, we will look at some powerful public liturgies of justice and pull out elements to aid in participants' future planning. The focus will be on how we get ritual out of churches and into streets where it can engage new communities in inspiration and commitment for social justice.
Building political will via political lobbying, Cheryl McNamara
May 3, Friday from 1:00 pm to 2:30 pm: Learn best practices on moving effective public policy forward from successful citizen-driven lobby organizations. This workshop will cover effective lobbying practices and guide you through a meeting with a political representative. Bonus! We'll briefly cover how to use media and social media to complement your political outreach.
Tricultural Learning Centre Engagement and Feedback Session, Gregory Burton and Laylia Bennett
May 3, Friday from 1:00 pm to 2:30 pm: The Cooperative Enterprise Council of New Brunswick will facilitate discussion exploring the concept of a Tricultural Learning Centre that would focus on building cross-cultural awareness, and developing relationships of trust in the context of a shared colonial history – French, English and Indigenous youth. Gregory Burton grew up in Wolfville NS, amidst the Annapolis Valley's abundance of community spirit and local agriculture. The son of two musicians Gregory moved to Montréal at the age of 18 to pursue an education, both academic and experiential. Originally a Sociology major, Gregory holds a BFA in Integrative Music Studies from Concordia University and spent 14 years working in Montréal's vibrant and creative music scene. An experienced venue manager and co-founder of a worker's cooperative, Gregory is committed to grassroots approaches to community development and social justice through his experience with on-the-ground planning and coordination. Having recently returned to the Maritimes and now living in Dorchester NB with his partner Tessa, he looks forward to bringing his lived experience in the arts, as well as his love of community to bear in contributing to the exciting work at CECNB. Laylia Bennett is an individual who is committed to fostering cross-cultural learning, grassroots movements, and social innovation. She has served her community by taking on the role as a Co-President of the Mount Allison Indigenous Student Support Group, and as a member in the University's Indigenous Advisory Circle for the past 2 years. Through these roles, and many others, she has been involved in many projects such as Mount Allison's first annual Powwow, the permanent Mi'kmaq flag raising ceremony, and the ongoing development of the University's first Indigenous Studies Program.
Standing Behind Our Youth: Art in Environmental Action (poetry and drama), Marilyn Lerch and Elizabeth Copeland
May 3, Friday from 1:00 pm to 2:30 pm: In age of ecocide where we are overwhelmed with information, we believe that art provides an effective model for moving toward social-environmental justice. Using poetry, song and specific examples of art in local settings, we will explore how to fully stand behind our youth. Our hope is to have participants leave with concrete processes using art in environmental work. The two presenters are both writers, educators and activists who believe that art is a transformative model as we stand at this critical juncture. Marilyn Lerch is the author of five collections of poetry. She was Sackville Poet Laureate from 2014-18 and president of the Writers' Federation of New Brunswick,2006-10. Her latest collection "That We Have Lived At All" was just published. Elizabeth Copeland is an award-winning author, theatre artist and arts educator. She won the 2018 Environmental Leadership Award for the Earth Warrior's Theatre Project. Her debut book of poetry, "Daring to Hope at the Cliff's Edge" will be launched later in 2019.
Energizing Memories and Radical Hopes: Women of Courage in Biblical Witness, Jennifer Henry
May 3, Friday from 3:45 pm to 5:15 pm: Biblical scholar Walter Brueggemann says that to confront the realities of our current world, we need "energizing memories and radical hope." This workshop will explore one source of those memories, the stories of women of courage in the biblical tradition. Looking at a series of texts together, the workshop will help discover truths that can animate and strengthen our solidarity with women of courage today.
Building political will via the media, Cheryl McNamara
May 3, Friday from 3:45 pm to 5:15 pm: Delve deeper into using the media to complement your political outreach. Letters to the editor and op-eds are important to elected officials. Find out how to write compelling letters and op-eds, and increase your chances of being published. You will have time to write a letter or start an op-ed and receive feedback.
Expressing to heal, Deepa Venkatesan
May 3, Friday from 3:45 pm to 5:15 pm: A 90-min workshop that focuses on using a pen and a paper to bring out your heartfelt voice by tapping on the powers of authenticity, intent, integrity and affirmations. The workshop begins with a meditative walk to spread and feel the energies in the room. Two writing prompts will be given to help you express all you can onto the paper for 10 mins each A reflection and sharing circle at the end of the writing activity to celebrate our voices.
Meeting our Multi-faith neighbours, Pastor Rick Pryce
May 3, Friday from 3:45 pm to 5:15 pm: We are all aware of the need for people of faith to work together for the sake of the world, for we have all seen the tragic results of not doing so (Christchurch, New Zealand being one of the more recent examples). The first step is being open to our multi-faith neighbours, recognizing that this will be a journey of self-discovery as much as a relationship building exercise. I am the pastor of the Lunenburg Lutheran Parish in the South Shore of Nova Scotia. I have been involved in interfaith work for over ten years. I look forward to talking with participants about my own experience, and discussing together how we might assist each other to take this journey together.
Seeing our own White Privilege, Shannon Neufeldt
May 3, Friday from 3:45 pm to 5:15 pm: Reflecting on the unearned benefits of being white is an important step on a journey towards racial justice. This workshop will use a series of personal and small group exercises to help us to better understand and recognize our white privilege and the detours that might plague us on our journey towards racial justice. Shannon Neufeldt is a white settler and Network Coordinator at KAIROS.
---
What feeds your soul? What moves you to action?
---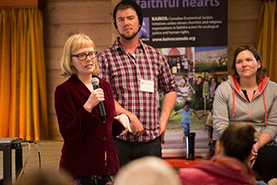 All this and more will be part of the Streams of Justice program. Come learn, grow, question, challenge and act together.
Streams of Justice refers to the water theme that will tie the various sessions together, as we seek for justice that flows like a mighty river (Amos 5:24).
It also refers to the way program topics are distinguished. KAIROS works to expose and change many different areas of injustice. Five of these program areas will come alive each in their own stream. Participants will be asked to choose one stream to focus on at this year's Gathering. In addition to these five focus area streams there will be skill building workshops that can be applied in any stream and plenary sessions to inspire and connect us all together.
Choose from one of five streams:
1- Indigenous Rights
KAIROS is committed to a new relationship with Indigenous peoples in Canada and around the globe, a relationship based on mutual respect, sharing, equity and the full realization of Indigenous peoples' rights. Core to this commitment is the principled implementation of the UN Declaration on the Rights of Indigenous Peoples.
KAIROS Canada is committed to truth, healing, and reconciliation for the past, and Indigenous justice for the present. We support an active process of decolonization— with ourselves, within churches, communities, organizations, and our communities, our churches, and our country, building just and respectful relationships between Indigenous and non-Indigenous peoples. We affirm the recognition of Indigenous peoples as distinct peoples and nations, with rights to land and self-determination.
Current priorities include decolonization and reconciliation education, implementation of the TRC Calls to Action through the Winds of Change campaign, commitment to free prior and informed consent by companies and governments, and solidarity with Indigenous-led struggles such as justice for Missing and Murdered Indigenous Women and Girls, and equity for First Nations' children.
2- Women of Courage
KAIROS is committed to the full equality and equity of women, men, girls and boys in diverse identities, roles and spheres of their life. Gender justice is a critical overarching goal in all KAIROS' work and is seen as an essential element in the pursuit of inclusivity, democratic development, peace, and respect for human rights and the environment.
The Women of Courage program is rooted in and shaped by the wisdom and experience of KAIROS` long-standing partnerships with Canadian and international women's organizations, networks, and movements for peace-building, human rights, and ecological justice. While women around the world face many injustices, women are also key catalysts and agents for change when they create and exercise leadership in human rights and peace building, processes often dominated by men's voices and experiences. Women are key actors in the struggle for ecological justice, organizing their communities to address resource extraction and climate change. The KAIROS Women of Courage program brings together women from different human rights contexts—conflict, Indigenous, and migrant—for shared analysis, learning, strategizing and social action.
3- Ecological Justice
KAIROS is committed to a vision of ecological justice where humanity lives within natural limits, in connected relation to all of creation.
Ecological justice includes social justice–participation in decision making and sustainable use of natural resources–and requires putting the economy in its place as a subsystem within society and the wider natural world.
Within a vision of ecological justice, areas of ongoing KAIROS priority include ensuring climate justice, addressing impacts of resource extraction, protecting watersheds, and contributing towards a vision and just transition strategy for a clean energy economy in Canada. Our work is inspired by eco-theology and influenced and informed by Indigenous wisdom. We work in consort with social movements in Canada and around the globe.
4- KAIROS Blanket Exercise
The KAIROS Blanket Exercise stream is an opportunity for Elders and Facilitators from across the Atlantic to connect, share experiences and learn from each other. We will build knowledge and capacity around providing emotional support to participants and opportunities to take action. We will also prepare and present a Mass Blanket Exercise for the whole gathering as well as the general public.
The KAIROS Blanket Exercise (KBE) program is a unique, participatory history lesson – developed in collaboration with Indigenous Elders, knowledge keepers and educators – that fosters truth, understanding, respect and reconciliation among Indigenous and non-indigenous peoples. The Exercise is an education tool in truth telling, a critical pre-condition to true reconciliation. While originally developed in Canada, the KBE is now being adapted to contribute to the truth of the history of colonization in other parts of the world.
Note: Some experience facilitating the Blanket Exercise is required to sign up for this stream.
5- Migrant Justice
This stream will not be offered at the Atlantic Gathering this year. Migrant Justice continues to be an important part of KAIROS' work. Learn more.
---
Leadership Team
This team began planning a year in advance and has been meeting regularly to make Streams of Justice as inclusive, fun, educational and productive as possible.
General Inquiries: Shannon Neufeldt, events@kairoscanada.org
Stream Staff Contacts and Planning Team Liaisons
---
Partnerships
The concept of partnership is essential to KAIROS. This event will reflect new and existing partnerships with Indigenous communities, environmental organizations, student groups, and churches, to name a few. Kelly Campo will be coming from Colombia as a representative of our Global Partnerships. If you know of an Atlantic group or organization that should be included in this gathering, please contact us at events@kairoscanada.org.
The following organizations have endorsed the event and are promoting participation in it.
---
Help us promote Streams of Justice and the Atlantic social justice movement. Download the poster and share.
Follow KAIROS Atlantic on Facebook and Instagram