Statement from KAIROS BC-Yukon on Site C Dam
---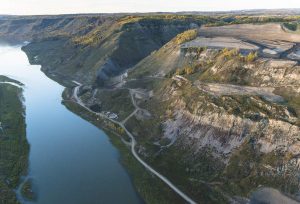 "The decision violates Indigenous peoples' rights, represents a blatant disregard for reconciliation, and ignores the fact the project is economically unsound and environmentally harmful."

KAIROS Statement on Site C Dam, Dec. 14, 2017
February 26, 2021, was a sad day for all who love the Peace River and our Earth. As community leaders of KAIROS BC-Yukon representing ten church and church-based organizations committed to taking faithful actions for justice and peace across this region, as well as nationally and internationally, we strongly oppose the BC government's decision to continue with the Site C hydroelectric mega dam.
Some of us have travelled to the Peace and have maintained close relationships with the land, water and people. We remain supportive and grateful for the efforts of the Peace Valley Environmental Association and the West Moberly First Nation whose rights were guaranteed protection under Treaty 8 but are largely ignored. So many are being displaced from their homes. KAIROS BC-Yukon cries out with the generations of people in the Peace River Valley who have fought against this dam, the destruction of their homes and habitat, and ecosystem loss – so many beings, human and all life forms, to be displaced from their homes for reasons that make little sense except that they are the ways settlers have always exploited the "resources" of this land.
Windigo economics, an economics based on growth and greed, is at work here, largely driven by the fossil fuel industry. Failing to pivot yet again, our government prefers to continue building Site C dam, more expensive now than almost any other "clean" energy source, and another subsidy for the fracked gas LNG industry. The further diverted public funds are needed for social programs and a clean, green recovery from the pandemic. Furthermore, as temperatures rise due to global warming, there will be more forest fires and extreme weather patterns threatening our ways of life as well as the global food supply chain. Site C dam will destroy much needed fertile agricultural land but our government is staying the course and building this dam.
Our political leaders are making decisions that hurt Earth, failing to accept their first responsibilities as human beings which is to protect and care for our home.
What can we do then, when faced with such wilful blindness and poor leadership?
As expressed by one of our KAIROS BC-Yukon leaders:
"Craziness abounds on many scales and I am trying to hold on to the simple acts of solidarity and caring for creation and others that I see all around me…Sharing my deep love for doing what we can to walk more lightly on this dear Mother Earth."
Clearly, we have reached a point when all who love Earth must – as individuals and collectively, as members of the human race – re-commit to standing up for another vision of right relationship.
KAIROS BC-Yukon is committed to continuing to tell a story of decolonization, hope and regeneration. We will continue to support the West Moberly First Nations in their on-going legal battle; to speak up for the Peace River and all the beings who depend on it; to press the BC government to live out the B.C. Declaration on the Rights of Indigenous Peoples; and to call for a just and sustainable transition to an economy based on protecting Earth and helping her thrive.
Janette McIntosh, KAIROS BC-Yukon representative [Xʷməθkʷəy̓əm (Musqueam), Sḵwx̱wú7mesh (Squamish) and səlilwətaɬ (Tsleil-Waututh) / Vancouver]
With B.C. subregional leaders in Terrace, Prince George, Nelson, Salmon Arm, Kamloops, Vernon, Parksville-Qualicum, Victoria, Abbotsford, and Burnaby.
Take Action
Sign this Pledge to let West Moberly First Nations know that we stand behind their leadership in fighting back against years of Treaty violations and encroachment on their rights due to dams on the Peace River.