KAIROS statement: Site C dam
---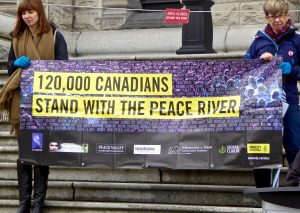 KAIROS Canada is profoundly disappointed with the BC government's decision to continue with the Site C hydroelectric megadam project, as announced by Premier John Horgan on December 11. The decision violates Indigenous peoples' rights, represents a blatant disregard for reconciliation, and ignores the fact the project is economically unsound and environmentally harmful.
In an open letter to the Government of British Columbia on November 3, KAIROS Canada joined First Nations communities and their allies to stress what is at stake with this project;
The Site C dam represents a profound betrayal of the solemn commitments undertaken when Canada entered into Treaty 8, when it adopted its Constitution, and when it endorsed the UN Declaration on the Rights of Indigenous Peoples.
The UN Declaration not only requires the government to consult with affected Indigenous peoples, but to obtain their consent and to uphold their entrenched constitutional rights. The West Moberly and Prophet River First Nations have been clear and consistent that they do not consent to the Site C dam.
The open letter also stressed that flooding the Peace River Valley would cause severe, permanent and irreversible harm to a unique natural environment that has sustained the Indigenous peoples of Treaty 8 for millennia. The megadam will flood more than 5,550 hectares of land in the Peace Valley wiping out thousands of graves, destroying 3,800 hectares of vital agricultural land, and making fishing unsafe. The Government's own inquiry into the project, conducted by the BC Utilities Commission (BCUC), concluded that Site C offers little or no economic benefit compared to less destructive alternatives, and could ultimately cost much more and carry much greater financial and legal risks.
The BC government now estimates the budget for the project at $10.7 billion, of which an estimated $4 billion has been spent so far. As the cost of renewable energy continues to fall, the case for megadam projects like Site C becomes obsolete. Cancelling the project would enable the province to invest in alternative low-carbon energy sources and other vital infrastructure projects.
KAIROS stands with our allies and supporters who have been devastated by this week's decision and who continue to take action. The West Moberly and Prophet River First Nations have announced their intention to obtain a court injunction to halt construction and to launch a civil action lawsuit for Treaty infringement. We stand with them and with all those who continue to work to protect the Peace River Valley for the next seven generations.