Spirited Reflection: The grace of giving
---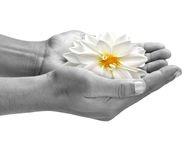 Second Corinthians 8:7-15 talks about giving, and it has a message for us today. The church in Jerusalem had fallen on hard times financially. It started off great, with believers sharing everything they had in the belief that Christ would return soon. When he didn't, things became bleak very quickly. To help the church in Jerusalem, Paul appealed to all of the churches he started to give to a collection he was taking up. At first, the church in Corinth gave generously, but in time the giving slowed to a trickle in part because some people accused Paul of taking the collection for personal gain.
The grace of God is the primary motivation for us to give. Grace giving is sincere. It reflects the believer's sincere love for God and desire to do His work in the world. God does not need the gifts of the faithful to accomplish His work, but He does generously allow those gifts to be used toward that end.
The purpose of giving must be to meet the needs of both the world and the church. The one who has much is able to share much, and the one who has little is able to share little. As God's people share in proportion to what God has entrusted them with, the needs of the whole body of Christ are met.
Grace giving shares with others. The purpose of God's wonderful program of stewardship is that the needs of the body and the needs of the world might be met with equality. And as God's people share in proportion to what God has entrusted them with, the needs of the whole body are met. The early church was a good example. Acts 2:44-45 reads, "Now all who believed were together, and had all things in common, and sold their possessions and goods, and divided them among all, as anyone had need." God asks us to give in proportion to what He has given to us. There should be a relationship between the amount God gives us to take care of and the amount we give to others.
Giving eases the plight of the poor, the hungry, and the oppressed. For example, many churches, including mine, support KAIROS and other ecumenical organizations and provide local food banks with donations of money, non-perishable food items, or both. By doing so, we show the same care and concern for the poor that Jesus did.
When people give generously out of love for God and his church and they grow and mature in their faith, they don't count the cost. Joy and Christian growth come to those who do the Lord's work gladly. Joyful giving flows from the gift of self. When we give from the heart we give one of the greatest gifts we can give. God is most concerned with the heart of the giver, and not the amount he/she gives. Giving to our church shows our love for God. Giving also shows that we want to help the less fortunate and that we want to share the costs of having church.
Paul's vision of reconciliation, justice and peace
Paul makes it clear that he isn't calling for us to give to the point that it hurts. We as Christians share in the responsibility to care for our brothers and sisters just as they care for us. We give, not to make others well-off and ourselves poor, but that those who lack might be as we are.
We don't have to give only money. We can give of ourselves by volunteering or helping a neighbour or helping someone who is in a hospital or a nursing home. The important thing is not what we give or how much we give or how often we give. The important thing is that we give willingly. We are encouraged to make others' needs our own and help them. By doing so we are imitating Jesus—and that is what He wants us to do as Christians in our world. For Paul, the vision of reconciliation, justice and peace embraces everything because it flows from the heart of God. Life here on earth can be nothing more than participation together in God's life, and that includes what we do with our money and our power.
Thanks be to God, AMEN
---
Craig Condon is a Lay Reader (Lay Minister) with the Anglican Parish of South Queens in the Anglican Diocese of Nova Scotia and Prince Edward Island. Listen to his sermons and his podcasts.
---
Bibliography
Jeremiah, David: The Jeremiah Study Bible, New King James Version (Brentwood, TN: Worthy Publishing; 2013, pp. 1491, 1610)
Craig Condon, "How to Give to God." Retrieved from the author's personal library.
Craig Condon, "The Joy of Giving." Retrieved from the author's personal library.
Carla Works, "Commentary on 2 Corinthians 8:7-15.: Retrieved from www.wporkingpreacher.org/preaching.aspx?commentary_id=1319
William Loader, "Pentecost 5:28 June 2 Corinthians 8:7-15." Retrieved from www.staff.murdoch.edu.au/~loader/BEpPentecost5.html
Rev. Brian Finlayson, "Sunday: Ordinary 13B, Proper 8B, Epistle." Retrieved from www.lectionarystudies.com/sunday12be.html