KAIROS condemns the Colombian government's violent repression of its people
---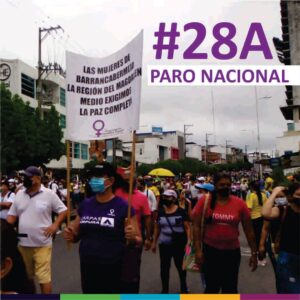 Since April 28, 2021, thousands of people have taken to the streets of Colombia; the initial catalyst of the protests was the federal government's proposed tax hike. Amid the social, economic, and health impacts of the pandemic as well as the ongoing insecurity—massacres, the targeting of social leaders, and the state's apparent disregard toward the implementation of the peace accords—the Colombian people have concluded that a tax increase of the most basic of goods will worsen the situation.
The Colombian government responded by militarizing the streets and attacking protestors across the country. Hundreds have been arrested and at least 19 people have been killed according to The New York Times. The President of Colombia announced on Sunday, May 2, 2021, that the tax proposal would be withdrawn and that a new one was in the process of being drafted. However, Colombians have expressed concern that these promised policy proposals will be equally harmful to people in Colombia.
In Barrancabermeja and Puerto Wilches, two municipalities where the Organización Femenina Popular (OFP), a KAIROS partner, operates, Colombians also protested the two recently approved pilot fracking projects. According to this PBI-Canada article, Canada has ties with one of the projects. Fracking in the area has the potential to cause great environmental and human rights violations. Environmental defenders opposing the projects have already received death threats as was discussed at PBI-Canada's webinar last week.
Despite the government's withdrawal of the proposed tax hike, people have continued to protest daily. The state's violent reactions and arbitrary arrests have only intensified the situation.
Today, May 5, 2021, unions and other social leaders have called for another National Strike. KAIROS is in solidarity with Colombia civil society—women's organizations, churches, human rights organizations, Iabour, and Indigenous groups—who are peacefully protesting policies that threaten their rights as well as the rights of the environment.
KAIROS condemns the Colombian government's violent repression of the Colombian people's right to peaceful mobilizations.
And, KAIROS continues to urge the Government of Canada to be a more public vocal proponent for peace, human rights, and the environment in Colombia.