KAIROS attends Canadian reception at the UN Commission on Status of Women (CSW63)
---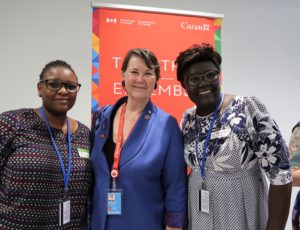 Agnes Petia, the Coordinator of the South Sudan Council of Churches National Women's Programme (SSCC-NWP) and Jane Thirikwa, Global Partnerships Coordinator, attended a reception hosted by Marc-André Blanchard, Ambassador and Permanent Representative of Canada to the United Nations, for Canadian and partner delegates attending the Commission on Status of Women (CSW63) forum in New York.
Key Remarks at the reception were made by Hon. Maryam Monsef, Canada's new Minister of International Development and Minister for Women and Gender Equality. Minister Monsef noted that while it is encouraging that there is an increase in understanding of the moral imperative of gender equality, it needs to be energized, both in Canada and around the world. She stated that some key priorities for gender justice are to continue to engage across sectors, diversities, cultures, generations and races; united by the fundamental belief that our communities and countries are better off when women are supported and have equal opportunities to participate.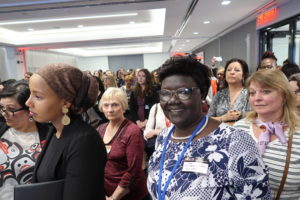 Agnes and Jane networked with other delegates, and also with Senator Marilou McPhedran and Terry Duguid, Winnipeg South Member of Parliament who were both very encouraged by the work of KAIROS and its partners, specifically our Women of Courage; Women, Peace and Security program. They echoed the need to highlight and support the work of women human rights defenders in marginalized communities.