Climate Action Month Day 27: Earth strike
---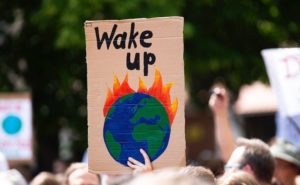 Millions of people are planning to walk out of workplaces to join youth climate activists to demand an end to the age of fossil fuels.
Today's resources:
Keep an eye on our social media as the Toronto KAIROS staff join in the strike!
Shake up the Establishment created a webpage where you can compare the climate platforms of the various federal parties in Canada. Shake Up The Establishment is a non-partisan organization that hopes to bring climate action to the forefront of the upcoming October 2019 Canadian Federal election. We want to help make Canada a leader in addressing the climate crisis by providing Canadians with scientifically-backed information on the issue to ensure informed voting. Given the emergent nature of the issue, we demand that political parties provide feasible plans for climate action, and are held responsible for executing these promises.
---
Join the Global Earth Strike in your city if you are able. If not, support those who are striking by supporting on social media.
Millions of people are planning to walk out of workplaces to join youth climate activists to demand an end to the age of fossil fuels. (Source: GlobalClimateStrike.net)