Advocates urge protection for migrant workers travelling to Canada amid COVID-19 restrictions
---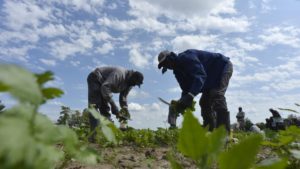 Migrant worker advocates want the federal government to improve protections for foreign labourers travelling to Canada during the COVID-19 pandemic.
The comments come as the federal government reassured farmers that, despite new travel restrictions, foreign workers will be allowed into Canada this spring. Syed Hussan, the executive director of the Migrant Workers Alliance for Change and member of the Migrant Rights Network, a network of self-organized groups of refugees and migrants, said while the government understands the labour these workers provide is critical, it must also appreciate that the workers themselves are critical.
"Critical workers deserve critical support," he said.
Deputy Prime Minister Chrystia Freeland said Friday that foreign workers would be allowed into Canada after initial concern from farmers that workers would be barred. Canadian agriculture producers employ tens of thousands of migrant workers to meet labour demands, fuelling concern that Canada's food supply chain will crash without them.
Freeland also said workers will be required to undergo a 14-day isolation period upon their arrival. It is still unclear what will happen to workers if they grow ill after their arrival.
Hussan said while both Ontario and Quebec have made changes to their respective health policies to allow access to all rather than just those with provincial health cards, the federal government is responsible for ensuring all provinces meet this standard.
As well as full access to health care, he said the feds must provide migrant workers with income support during the 14-day isolation period, as well as self-determination, meaning workers should be able to decide for themselves whether they want to work in Canada this year without fearing repercussions of not being offered a contract in future years. He also said workers need the ability to practice social distancing through adequate housing; migrant workers typically live in cramped quarters, such as trailers, which would result in easy spread of the novel coronavirus.
Hussan said the added costs should be determined on a case-by-case basis.
For example, he said workers could be housed in motels, or given money to rent accommodations if it can't be provided on a company site. He said the feds and provinces can work with Migrant Rights Network's organizations on the ground to determine the best solutions.
Connie Sorio, migrant justice co-ordinator at KAIROS, which works with faith groups to advocate for human rights, also said she's looking for the federal government to announce income support and adequate housing for migrant workers in the coming days. She said workers need to be paid during the 14-day isolation period, as many accrue debts of $6,000-$8,000 when using recruitment agencies to find work in Canada.
In addition to paying off that debt, she said the workers need to support their families at home.
Hussan said workers already in Canada are experiencing difficulty due to the outbreak, such as lack of decent cleaning supplies, space to practice social distancing, and food in supermarkets, as well as an increase in racism.
"For workers who are here, they are afraid to ask for their rights," Hussan said.
Sorio said some workers who have recently arrived have been laid off amid the pandemic and will not qualify for employment insurance, adding that she hopes the feds announce support for them in coming days.
Mary Robinson, president of the Canadian Federation of Agriculture, said industry stakeholders outlined their concerns to the government around migrant workers and are expecting a finalized protocol sometime this week. She said some things being discussed are chartering planes for migrant workers and having them immediately sent to their isolation location upon arrival, which she said would vary for each business. Robinson said travel would be done in a controlled environment, adding that farmers don't want to risk exposing workers to the virus at a time when labour needs are hard to meet.
"Everyone is highly invested in making sure this is done properly," she said. "Our primary is concern is ensuring the health and safety of Canadians and just generally flattening the curve for the globe."
Meanwhile, Hussan said he's advising migrant workers to contact the Prime Minister's Office to express their concerns ahead of Parliament's meeting Tuesday.
He also said the problem is indicative of bigger programs, like adequate housing and accessible health care in Canada. Hussan said cleaners, care workers, food growers, warehouse workers, and delivery drivers' protections have all been "sidelined" in the past.
"The system has always been held together by a thread, and now one one piece falls, there's repercussion across the system." 
Sorio also urged that communities can take action by being more compassionate to migrants workers and refugees.
'They are performing really essential work for us," she said "If they're not allowed to come in, no one will do this work."
As well, Sorio said that while people often vent their problems on incomers and migrants, they are affected just as Canadians are impacted, adding "but I think they're feeling a heavier load."
She said now isn't the time to distinguish between migrant workers, regular Canadians, and refugees.
"Regardless of status, people need to be united in this difficult and challenging time," she said.
---
Written by Rachel Emmanuel. Originally published by iPolitics on Mar 24, 2020.