You are the light of the world…let your light shine before others…
---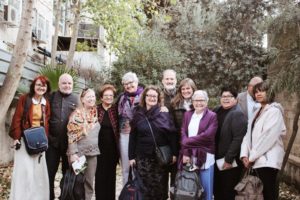 (Matt. 5:14,16)
By Andreas Thiel
What sort of courageous people did we encounter today? Not an inappropriate question to pose, considering that each day in the West Bank brings us face to face with individuals and groups that yield fresh insights on human courage.
On today's itinerary: separate meetings with two respected Palestinian leaders, Dr. Hanan Ashrawi and Jean Zaru, both in Ramallah. It would be far too convenient to classify Ashrawi as the "political" leader and Zaru as the "spiritual" leader. But that would be to diminish the breadth and depth that exists in their respective visions for justice and peace in the world generally, and in Israel/Palestine specifically. Both women come from Christian upbringings; Ashrawi, as an Anglican, and Zaru as a Quaker. This helps to explain the discernible sense of light when they share their vision of life beyond occupation. In addition, both women understand that faith without action is meaningless. They may differ in how this action might manifest itself, but they understand that change can only come when people work to address the unjust structures which create ongoing conditions of violence. As Jean Zaru puts it, "the goal is to create structures that empower all God's people." She acknowledges that this kind of transformation is necessary, and that because it lies beyond the ability of any single person to accomplish the transformation of unjust structures, a collective movement is necessary.
Both Ashrawi and Zaru reflected on finding hope in communities of support, particularly among Palestinian women, who so often experience violence, either directly or indirectly. Communities of support provide opportunities for mutual encouragement and mentorship, and in this way, a "movement" is created and nurtured. Hanan Ashrawi's perspective on "movement" points to the need for the wider international community to address the injustices that exist under Israeli occupation. She understands far too well the statistics that describe the depth of suffering among Palestinians, in particular the suffering of the children of Palestine. She cites a variety of psycho-social problems caused by the ongoing stress of occupation, and also acknowledges that the international community has not consistently found the courage to speak in support of Palestinian rights. Her observations served as encouragement to this delegation to consider ways that we might add our voices to those who advocate and work for the transformation of unjust structures.
When asked about her source of hope, Jean Zaru pointed to the faith that she sees in the people around her, especially in their unflagging commitment to live as compassionate and peace-loving people. In addition, she finds hope in the many religious traditions that share a commitment to living "the way of compassion." Her ultimate hope, however, is found in her own faith, which reminds her that there is indeed "life after resurrection." Both women have found ways of tapping into that life. It seems to be what lights their way forward. I can't help noticing that it shines from within them, guiding all those who join them in walking the way of peace.