Women Voicing their Resistance to Extractivism
---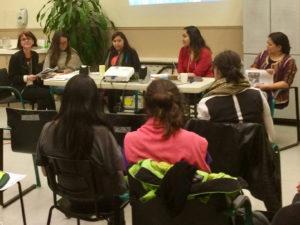 "They wanted to silence me, but I told them that it's about time that I am singing. And I am singing very out loud in my community."  
–Yvonne Sampear, WoMin, South Africa
"Nunca nos callaremos. Es por nuestro derecho y por nuestras tierras y por nuestros productos, por nuestra soberanía ilimitada." (We will never stay quiet. It is for our right and for our lands and for our products, for our unlimited sovereignty.)  
— Else Merma Ccahua, Organization of Women Defenders of Land and Culture of Espinar, Peru
Resource extraction companies rely on the power of silence to justify and erase the deleterious effects of large-scale mining projects on Indigenous communities across the globe. From April 27-29, over forty women from Canada and the Global South and organizations, including KAIROS, gathered in Montreal to voice their resistance to, expose the injustices of, and strategize against extractivism at the local and transnational level.
On Saturday, April 28, the gathering included an afternoon and evening of public programming, which began with the panel Women's Experiences of Struggle and Resistance Against Extractivist Megaprojects. Beverly Longid (Philippines), Loretta Williams (British Columbia), Yvonne Sampear (South Africa), and Elsa Merma Ccachua (Peru) shared their perspectives on and experiences with resisting extractive projects.
As each woman spoke of their endeavors and the situations their communities endure in the face of extractivism, it became clear that, even as each struggle is specific, commonalities provide a framework for solidarity and coalition work. These land defenders left no doubt that Indigenous women leaders are central to mobilization efforts against environmental degradation (i.e., pollution of land and water), health problems (i.e., a rise of cancer and physical deformities), and oppression and repression (i.e., discrimination and intimidation) related to resource extraction.
In the series of workshops that followed the panel, including KAIROS' From the Ground Up: Feminist Strategies of Resistance, Resilience and Resurgence in the Face of Resource Extraction, participants continued to express their unwavering commitment to the struggle of defending land, water, and life. KAIROS partners Gloria Chicaiza (Ecuador), Lema Ijtemaye (Pauktuutit Inuit Women of Canada), Beverly Longid (Philippines) and Loretta Williams (British Columbia) spoke on the gender impacts of large-scale resource extraction and the various feminist strategies—from leveraging the law to partnering with academic researchers to making the links between the land and bodies unambiguous—they are implementing to resist it.
The evening culminated with a cultural night of solidarity featuring short videos, dance, and musical performances by participants and local artists. Like the rest of the gathering, the cultural event highlighted the importance of celebrating resistance and the defenders whose vocal opposition to the destruction of land is a spirited and invaluable dedication to life and planet Earth.
---
Written by Gabriela Jimenez, Latin America Partnerships Coordinator