We need more Canadian aid, not less
---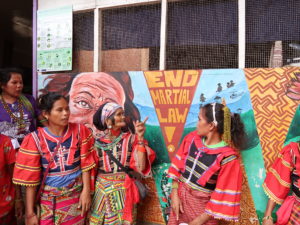 The planet is in crisis. Over the last few weeks more than 6 million people, mostly youth, from around the world have mobilized under the message, "We want you to panic!" Both the analysis of this crisis and the responding movements of resistance are intersectional and inter-connected. It affects all of us.
The climate crisis and ecological damage, income disparity, and the rise of populism and authoritarian governments that thrive on "us vs. them" rhetoric challenge everyone's safety and wellbeing. We see a rise in forced migration, food insecurity and violence faced by communities in Canada and around the world.
To talk about reducing Canadian Aid during this context is not only unethical and irresponsible, it is dangerous. Now is the time for Canada to be more generous, not less, in order to respond to this global crisis and help build a more stable world and inclusive peace for everyone. Canada has the power, and on the basis of its global resource extraction and high level of per capita emissions, the responsibility to do this.
KAIROS has witnessed the power of people-to-people connections between its partners in the Global South and communities, particularly Indigenous and migrant communities, in Canada. We have supported Indigenous partners from Guatemala, Colombia and the Philippines to participate as international witnesses in the National Truth and Reconciliation Commission hearings in Canada, responding to the call of survivors of Indian Residential School for international presence. We have helped to facilitate delegations and visits between Indigenous communities in Canada and the Global South.
In these exchanges it is abundantly clear that, given the opportunity, people connect with people—Indigenous, women, farmers—building solidarity and advocating for strategies, across borders, that leave no one behind. Viewing Canadian aid as zero sum game, pitting one vulnerable group against the other, is dangerously misguided. Canadians do not "get ahead" at the expense of others.
KAIROS Canada and its global partners have witnessed firsthand how Canadian aid empowers women, who are victimized by war, to be peacebuilders, even in some of the world's most protracted conflict zones such as Colombia and the Philippines. Peace agreements have a 35 percent greater chance of lasting at least 15 years when women participate in drafting them, according to UN Women. Canadian aid continues to be needed, targeted to those women women-led grassroots organizations in the Global South who make efficient and effective use of it, with extraordinary results.
Rather than cutting aid, each political party in this election should commit to a timetable of increasing official development assistance from a paltry 0.26-0.28 percent of its Gross National Income towards 0.7 percent in adherence with international guidelines.
Canada must also invest well. KAIROS urges the next Canadian government to prioritize funding to grassroots organizations, particularly ones that are women-led given their track record in defending the rights of marginalized people, supporting gender equality and empowering women, supporting climate change mitigation and adaption, and laying the foundation for sustainable peace.
Understanding these connections, KAIROS' Election Resource offers background and questions to political candidates on intersecting issues: Indigenous rights, migrant justice, climate change, gender justice and international development.
During this election time, please raise this issue with candidates in your riding, and send a letter to each of the party leaders. Here are suggested points to raise:
Cuts to Canadian aid harms everyone. Canadians "getting ahead" at the expense of people in the Global South, is false, misleading and unethical.
There is no "us vs them." Indigenous and migrant communities in Canada and in the Global South, for example, share powerful similarities of experience and make clear commitments to shared solidarity when given opportunities.
The impacts of Canadian mining overseas have contributed to ecological damage, social unrest and violence, with women bearing the greater burden. Canada has a duty to not only make Canadian companies accountable for their actions overseas, but to equip grassroots organizations with the support they need to protect their rights and forge lasting peace.
Canada contribution to the climate crisis requires Canadian aid to address the dramatic impacts on countries the South who made little to no contribution to the creation of this current ecological disaster.
Canadian aid is proven to help advance Indigenous rights, women's rights, sustainable peace and equitable communities worldwide.
Rather than cutting international assistance, Canada should be accelerating its efforts to attain the 0.7 percent GDP target. Canada is a member of the Development Assistance Committee at the Organisation for Economic Cooperation and Development (OECD) which has set a target of 0.7 percent of a country's Gross National Income (GNI) being allocated to Official Development Assistance (ODA). This .7 percent GDP aid target also appears in the Sustainable Development Goals aimed at ending global poverty and hunger, and creating conditions for a just, sustainable life for all on the planet by 2030, and agreed to in 2015 by 192 member countries of the United Nations.
Specific Questions to ask candidates and leaders on Canadian Aid:
Will your party commit to increasing Canada's Official Development Assistance to 0.7 percent of its Gross National Income, in adherence with international guidelines?
Will you commit to ensuring that Canada supports grassroots women's peacebuilding efforts around the world as a core component to the next government's foreign policy?
Some CCIC resources:
CCIC's Media Statement (1 OCT 2019): The Canadian Council for International Co-operation Reacts to the Proposed Cuts on International Assistance in the Conservative Electoral Platform
CCIC's Media Advisory (27 AUG 2019): Media Advisory – Canadian Global Aid Leadership: Fact-Checking the Announcements
Fact sheet on Canadian Global Aid