Trailblazer: The Great Climate Race
---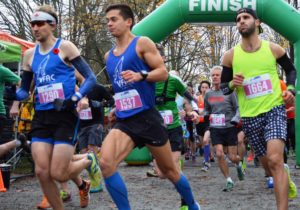 Environmental campaigner Ben West and his partner Mari McMillan initiated The Great Climate Race because they believed in encouraging people to make a difference.  West's personal experience of running gave him an idea for helping people to connect to the issue of climate change and provide solutions to the damage caused by fossil fuel use.
The Great Climate Race is a fundraising event initially organized in 2015 in Vancouver. Its slogan, Climate change is a race against time, highlights the urgency of the present environmental crisis. Participants are asked to engage in a 10k or 2.5k run or walk on behalf of renewable energy projects.
Because climate science can be difficult to understand and relate to, West and McMillan set out to rally people in support of clean energy transitions through the positive feeling that running in a group can produce.  Though the race is partly underwritten by corporate sponsors, participants are also encouraged to crowdfund online or seek sponsors offline.
Besides helping to create awareness of the damage wrought by fossil fuel use and financially support organizations  committing to renewable, low-carbon energy projects, the Great Climate Race promotes respect for Indigenous traditions and encourages partnership with First Nations communities and companies.
---
Solar Projects
The Great Climate Race currently focuses on supporting solar energy projects. Reasons for this include a decline in the cost of solar energy panels and professional estimates that solar is on its way to being the world's number one source of energy.  As West explains, "It's hard to know what to do about climate change and many people still don't know we have all the technology we need already to be well on our way to drastically reduce our dependences on fossil fuels."
In the first two runnings of the Great Climate Race, support was extended for projects with OrcaLab and the Tsleil Waututh Nation.
OrcaLab Research Lab Solar Energy Project
OrcaLab is a world-renowned research centre that has been conducting research on orcas and whales for more than four decades. Situated on a remote island off the British Columbia coast and dependent on gas generators for most of its existence, OrcaLab began the shift to solar energy in 2013. Emerging Leaders for Solar Energy (ELSE) organized OrcaLab's transition to solar energy and partnered with the Great Climate Race to raise $16,000 still required to complete the project. The new solar system will help to reduce carbon emissions from the gas generator by between 1.5 to 2 tonnes each year, besides saving an estimated $2000 in fuel costs and freeing that money for other important research.
---
Tsleil Waututh Nation Solar Power Project
The Tsleil Waututh have inhabited the Burrard Inlet in British Columbia for thousands of years. The members of Tsleil Waututh decided to opt for a renewable energy source in response to the announcement in 2013 of plans for the Kinder Morgan pipeline expansion project, plans that they have critiqued and continue to resist on the grounds that the pipeline will endanger the waters of their ancestral home.
In the words of Tsleil Waututh Nation Chief Maureen Thomas, "Tsleil-Waututh Nation are the People of the Inlet and it is our sacred obligation to protect the water."
The Great Climate Race has raised funds for the Tsleil-Waututh's new administrative building and health centre in North Vancouver, a project that included an approximately 47,000 kWh per year solar installation.
In addition to the Orcalab and Tsleil Waututh projects, The Great Climate Race has also partnered with Clean Energy Canada, the City of Vancouver, and other organizations in the Solar Now initiative to demonstrate and promote renewable energy systems. Solar Now has completed several installations in the past two years and is currently working on a solar array for the Vancouver Public Library.
---
Edited by Richard Thompson