Trailblazer: Climate conscious emergency fire solutions
---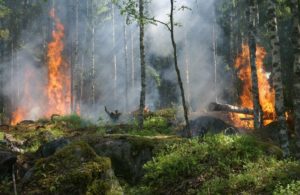 For remote Indigenous communities, the climate crisis is amplified in ways that many do not consider. Some may remember headlines about deaths related to house fires in First Nation communities. Sometimes these fires are connected to forest fires sparked by shifts in the severity of elements like lightning and tornadoes.
These tragedies highlight the risks and challenges that persist in Indigenous communities. Without access to emergency fire response services, roads, resources, and many other resources, remote communities are particularly vulnerable to the hazards associated with fires.
Enter Superior Strategies Supply & Service, a First Nations-owned and operated company, based from the Red Rock Indian Band, Lake Helen Reserve in northwestern Ontario. Invested in finding solutions that support Indigenous communities, the company was quick to secure the distribution rights for the condensed aerosol powder known as DSPA, developed and made by Netherland manufacturers.
This innovative product is an affordable solution for First Nation communities seeking to invest in thoughtful, effective, and environmentally responsible fire fighting solutions.
"It's completely non-toxic and biodegradable. It has no harmful effects to the environment, humans, animal, or plantkin," explained Connor Sarazin, Corporate Sales Manager, an Algonquin from the Pikwakanagan First Nation. "Our company is committed to creating solutions to issues facing First Nations communities, in a good way, that thinks about the future generations."
The device is available in different sizes and can be mounted on all terrain vehicles like four-wheelers and trucks. Sarazin imparts, "our smallest version is only three pounds and can be kept in a backpack and is easily transported. It can make fire fighting in remote communities possible, with limited help or muscle power."
KAIROS is pleased to highlight this important, eco-friendly social enterprise. Learn more about low-cost, climate conscious, emergency fire solutions on their website.