Stalling on Bills C-262 and C-337 undermines Canada's democratic process, jeopardizes reconciliation and fails to protect human rights
---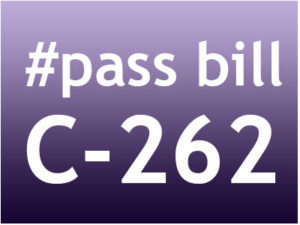 17 June 2019
Open Letter to Parliamentarians
A unanimous motion of the 338-member House of Commons said that two bills currently before the Senate, Bills C-262 and C-337, are "critical pieces of legislation" and urged that they be "passed into law at the earliest opportunity."
Indigenous peoples' nations and organizations, and many non-Indigenous partner organizations concerned for the protection and promotion of human rights, are profoundly concerned, and indeed deeply offended, that despite the adoption of C-262 and C-337 in the House of Commons, these critical bills are now jeopardized by the actions of a few unelected Conservative Senators.
We are urging all Parliamentarians to ensure that these critical bills are now immediately adopted and given Royal Assent. We call on the Government of Canada to do everything in its power to ensure that these bills do not die on the Order Papers.
Bill C-262 provides a framework for implementation of the UN Declaration on the Rights of Indigenous Peoples. Bill C-337 will ensure training for all judges concerning sexual violence. We consider both pieces of legislation to be vital and necessary to the crucial work of reconciliation and protection of human rights, consistent with the Calls to Action of the Truth and Reconciliation Commission of Canada and the Calls for Justice of the National Inquiry on Missing and Murdered Indigenous Women and Girls.
The efforts of a small group of Conservative Senators to block passage of these bills through procedural delays and stalling tactics far exceed, and indeed jeopardize, the legitimate role of the Senate. These strategies abuse Senate procedural rules and are in bad faith.
The government representative in the Senate, Peter Harder, has stated that the Senate should not use "procedural obstruction over legislation passed by the House of Commons",[1] which he called the 'pocket veto'.
As stated on the Senate of Canada's website, the Senate is to have "evolved from defending regional interests to giving voice to underrepresented groups like Indigenous peoples, visible minorities and women."[2] It is an established principle that the Senate must not "exercise its powers in such a way as to impede legislation adopted by the House of Commons"[3]. In this case the actions of a few Senators are causing the Senate to violate this Constitutional principle. As underlined by the Supreme Court of Canada in Reference re Senate Reform:
The appointed status of Senators, with its attendant assumption that appointment would prevent Senators from overstepping their role as a complementary legislative body, shapes the architecture of the Constitution Act, 1867.[4]
It is apparent that the real objective of these Conservative Senators is to block Bill C-262 at any cost and that Bill C-337 is being caught up in these unprincipled tactics.
Former Conservative MP and Leader Rona Ambrose recently tweeted:
I've been told my party @CPC_HQ will block all legislation including #C337 to make sure #C262 #UNDRIP never passes. Sad day….
Let us be clear: these unprincipled tactics are a direct continuation of a history of colonial attitudes and policies that have caused such profound harm to and marginalization of Indigenous peoples and continues to leave Indigenous women and girls in harm's way.
Tragically, this is consistent with the Conservative party's shameful history of opposing and obstructing protection of the human rights of Indigenous peoples. For example, the recent record shows that the Conservative government unilaterally opposed and voted against the UN Declaration at the UN Human Rights Council in 2006, at the UN General Assembly in 2007, and all Conservative MPs voted against Bill C-262 in the House of Commons in 2018.
Where are we now?
If these Bills don't receive Royal Assent in this session of Parliament they will die on the order paper.
Now is the time for Parliament to demonstrate commitment to reconciliation and ensure Bill C-262 and C-337 receive Royal Assent.
The federal government has made numerous, high profile commitments to implement the UN Declaration and to address violence against women and girls. Last year the Prime Minister told the House of Commons:
"To truly renew the relationship between Canada and Indigenous Peoples – not just for today, but for the next 150 years – we need a comprehensive and far-reaching approach. We need a government-wide shift in how we do things. We need to both recognize and implement Indigenous rights because the truth is, Mr. Speaker, until we get this part right, we won't have lasting success on the concrete outcomes that we know mean so much to people."[5]
The coming days will be crucial for fulfilling this commitment. Every effort must be taken to remove obstacles to the adoption C-262 and C-337 before Parliament rises. All parliamentarians and political parties will be judged on their actions in the coming days.
________________________________________________________________________________
The Coalition for the Human Rights of Indigenous Peoples (www.declarationcoaliton.com)
This statement was endorsed by the following organizations and individuals:
Amnesty International Canada / Amnistie Internationale Canada
Assembly of First Nations
BC Assembly of First Nations
BC Federation of Labour
BC Treaty Commission
Canadian Friends Service Committee (Quakers)
First Nations Summit
Grand Council of the Crees (Eeyou Istchee)
Indigenous-Settler Relations, Mennonite Church Canada
Indigenous World Association
KAIROS: Canadian Ecumenical Justice Initiatives
Union of BC Indian Chiefs
Mariam Wallet Med Aboubakrine, former Chair UN Permanent Forum on Indigenous Issues, President of Tinhinan Canada
Sheryl Lightfoot, Canada Research Chair of Global Indigenous Rights and Politics, University of British Columbia
Dr. Wilton Littlechild, International Chief
For more information on implementation of the UN Declaration, please see our factsheets at www.declarationcoalition.com/more-info/
Interpreting the UN Declaration on the Rights of Indigenous Peoples
Myths and Misrepresentations about the UN Declaration and Bill C-262
Free, Prior and Informed Consent FAQ
[1] Harder, V. Peter. "Complementarity: The Constitutional Role of the Senate of Canada." National Journal of Constitutional Law 39.2 (2019): 223-276.
[2] Senate. "About the Senate." Senate of Canada, sencanada.ca/en/about/.
[3] Senate of Canada. Senate of Canada – Compendium of Procedure – House of Commons, www.ourcommons.ca/About/Compendium/ParliamentaryFramework/c_d_senatecanada-e.htm.
[4] Reference re Senate Reform, 2014 SCC 32, para. 59.
[5] Prime Minister Trudeau's February 14, 2018 Speech