Spirited Reflection: Singing God's song as exiles in your own country
---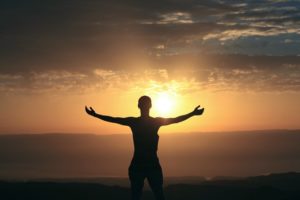 How could we sing the God's song in a foreign land? (Psalm 137:4)
During the 6th century BCE, Jerusalem was plundered, and its leading citizens were dragged off to exile.   By the rivers of Babylon, the voices of these displaced people lamented the land and life they had lost. Faced with uncertainty, they cried, "How can we sing God's song in this foreign land?" 
Augustine considered the "rivers of Babylon" a metaphor for the stream of "temporal events" and realities. Many of us lament the illiberal and threatening mood in Canada these days.  The unholy trinity of a politics of hate, a politics of rage and a politics of fear are creating a debilitating atmosphere.
A politics of hate demonizes people for who they are based on an unfounded existential hatred for their ethnicity, religion, or sexual orientation.  Such purveyors of hate are often projecting their own inward shame about who they are. Tragically, as we have witnessed too often, a politics of hate can lead some lonely, ideologically myopic, and psychotic people to commit horrendous acts of violence.
A politics of rage arises when people lose economic, social, political or other forms of status.  Rage plays to the questionable belief that your gain has only been achieved at my expense.  It can translate into a "burn-down-the-house" "throw-out-the-elites" virulent populism that can slip further into xenophobia, demagoguery, cronyism, and nativism.
A politics of fear differs from rage in that it is fueled by a perception of anticipated loss.  The fears enumerated are diverse and not always clearly articulated. Frank Graves describes a political divide between those who are global and open to immigration, trade, globalization— compared to those who are not keen on diversity, pessimistic about the economic future, and harbour doubts about climate change. This pessimistic group can also slide into racism, anti-semitism, Islamaphobia or hatred against the LGBTQ2 community.
Hatred, rage, and fear are not directly related but ricochet off each other in self-reinforcing ways. It is shocking to many. We can feel like exiles in our own country asking, "How do we sing God's song in such times as these?"
While they take their toll, hatred, rage, and fear are never the final word. A recent Samara study confirms that while Canadians are concerned, no spark has ignited a "unique populist moment" in Canada, at least not yet.  Nevertheless, Canadians cannot be complacent.    
So "How do we sing God's song here and now?"  Some call for the faithful to be even more publicly prophetic. However, prophetic political power alone may not be enough. A more useful response to this unholy trinity might be a politics of grace.
Grace is a unique form of unconditional, universal, sacrificial love that you cannot acquire for yourself.  It can only be given.  Grace is the love God has for humanity, revealed for Christians in the life, death, and resurrection of Jesus.  Grace is embedded in the mutual love of empathy, compassion, and forgiveness that seeks to reconcile and restore damaged relationships.
Hannah Arendt pointed out that the greatest contribution of Jesus was to introduce the concept of forgiveness into human affairs.  Forgiveness – unconditional grace – is like a circuit breaker that interrupts the vicious human cycle of revenge, retaliation, and retribution.
A politics of grace reunites and reconnects relationships that have been pulled and pushed apart, divided and dispersed, polarized and scattered by hatred, rage, and fear. It is an imperfect and proximate attempt to put God's intended world back to together. 
A politics of grace is the politics of Jesus.  In Jesus' Jewish tradition, there are four guiding principles to this kind of politics.  A politics of grace is about tzedakah (distributive justice) and mishpat (retributive justice) to restore faith and harmonious relationships.  This justice is in effect loving our neighbours when there are thousands of neighbours to love.  A politics of grace is about sadiqah (righteousness) fulfilling our responsibilities to others and to God.  A politics of grace is about hesed (steadfast love) toward God and neighbour.
The politics of grace is the politics of the "children of light" (Ephesians 5:8) called to speak the truth with love (Ephesians 4:15).  A politics of grace requires no small measure of humility, self-examination and honest self-interrogation to expose and tame our own self-interests before serving a greater public good. It is the children of light speaking the truth with love to the world, but equally, to themselves.
What does a politics of grace look like?"  Once in a while we get a glimpse of a politics of grace where God is at work trying to put things back together.  Recently Jennifer Henry spoke in Waterloo about the work of KAIROS in Canada.  She talked about the impact of the KAIROS Blanket Exercise, an interactive workshop on the history of the relationship between Indigenous and non-Indigenous peoples in Canada that immerses participants in the impact of colonialism, cultural genocide, and the displacement of Indigenous peoples from the land.  It is a painful but necessary story.
What is truly remarkable is that what began as a small workshop offered primarily to interested Church people has taken off.  There have been literally thousands of these workshops with thousands of participants from all walks of life.  The two-hour workshop challenges and confronts non-Indigenous assumptions about Canada. Many participants have said it has changed them. The KAIROS Blanket Exercise is the first step for so many in connecting to this history and in moving towards reconciliation with Canada's First Peoples. It is KAIROS speaking the truth with love, a politics of grace.
The ancient Hebrew's tradition of lament begins a process for the grieving of reclaiming their tradition, reinventing themselves in new circumstances, and in adopting a new worldview.  Lament often leads to praise and thankfulness for God's redemption, deliverance, and healing in the past. Such remembrance provides hope for the present.  As we lament by our own river of Babylon, the work of KAIROS and other "children of light" may just be such a politics of grace that speaks the truth with love to a frazzled world that seems intent on turning off the lights of hope.
—
David Pfrimmer is professor emeritus and a fellow at the Centre for Public Ethics at Martin Luther University College at Wilfrid Laurier University.  David was the Evangelical Lutheran Church in Canada's (ELCIC) representative to many of the former ecumenical coalitions, the Canadian Council of Churches, various multifaith organizations and was part of the founding Board of KAIROS. 
---
i. Reinhold Niebuhr and Robert McAfee Brown, Augustine's Political Realism in The Essential Reinhold Niebuhr: Selected Essays and Addresses, (New Haven: Yale University Press, 1986).
ii "Don't Blame The People," Samara Centre for Democracy, May 14, 2019, https://www.samaracanada.com/research/political-leadership/dont-blame-the-people.
iii Hannah Arendt, The Human Condition, Anchor Book edition (Garden City, New York, 1959). p.215.
iv Jonathan Sacks, "Re'eh (5767) – Tzedakah: The Untranslatable Virtue," Rabbi Sacks (blog), August 9, 2007, http://rabbisacks.org/reeh-5767-tzedakah-the-untranslatable-virtue/.