Spirited Reflection: Orange Shirt Day as solidarity and visibility
---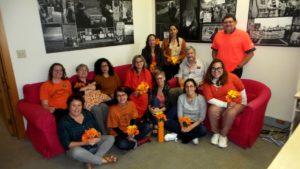 Orange Shirt Day began in 1973 when six year old Phyllis Webstad entered the St. Joseph Mission Residential School in BC. Young Phyllis was wearing a brand new orange shirt for her first day of school – new clothes being a rare and wonderful thing for a First Nation girl growing up in her grandmother's care – but the Mission Oblates quickly stripped her of her new shirt and replaced it with the school's institutional uniform.
I am an inter-generational survivor of the residential school legacy. My connection to this trauma goes back three generations and most of my Omamiwinini Anishinaabe peers cannot say they are so distant from the same trauma.
This Orange Shirt Day [September 30], I am thinking of much more than the residential school experience of my great-grandfather George Sarazin, who would later go on to serve in World War II, like so many of the young traumatized men of the residential school legacy. George served as a tank gunner and returned injured. Upon coming home, he was once again left with his own traumas; the loss of language, the loss of bond and sense of family connections interrupted by his removal and school attendance, beginning at age four.
With a path grounded in noojimowin (healing) I often found myself reflecting on George's perspective, as it intersects with the Adverse Childhood Experiences' study of early childhood indicators, and what we now understand and value for the early years of children. One teaching began to emerge and just like that, all at once, I immediately understood our close connection to these inter-generational traumas.
What George grasped in his early years was the hatred of others for the colour of his skin and the 'Indian' words he spoke. He grasped that institutions like the church knew 'what was best'. I found myself thinking about George, the young father of my own Grandpa, Percy. George managed to keep his children at home, and it was wife and matriarch Kokum Rose who was credited for keeping the children in the church. What George thought about his own young growing family, I will never know. Though he grew his brood to nine, he died young in his 50s amounting to his body very simply quitting the traumas he had endured.
Most First Nations and Inuit people have a direct or indirect connection to the residential school legacy. And it is widely thought that the child welfare system acts as the modern residential school system, because of the same systemic and targeted efforts to remove children from the care of their families and communities. These teachings are carried by child welfare survivors and we have marches, foundations, and legacies for those who underwent similar traumas, some remembered in vigils like Sisters in Spirit and the Highway of Tears.
And what's behind Orange Shirt Day
Indigenous communities must undertake unlearning campaigns and establish counter-institutions, targeted in their efforts to address the inter-generational and intersecting traumas related to the residential school legacies and symbolized by Orange Shirt Day. Addictions, disabilities, cycles of violence, displacement, social risk and disassociation are all interwoven behind Orange Shirt Day.
When I see schools and community signage reminding others to wear an orange shirt in remembrance, I am stricken by the sense of community acknowledgement and dedicated learning that was absent in my own elementary and secondary experience during the late 1980s and 1990s.
So this Orange Shirt Day, I found myself realizing how proud I am of not only the surviving Omamiwinini Anishinaabe, but also my home community in Pembroke, Ontario known as the heart of the Ottawa valley.
Often, we are recognizing the trauma, but this year I want to claim pride. Pride in my territory for coming such a long way, because it's not easy to combat racism and white fragility. Pride that more and more Canadians are growing up with the knowledge of the history behind Orange Shirt Day.
I am an inter-generational survivor. I am proud of George and Rose. I am proud to be a touch of their legacy, humbled at the thought of the resiliency that found the power to carry forth in my own life, from Percy, to my mother, to myself, and continues to be carried through my children, in the blood of our veins.
Miigwetch for wearing an orange shirt today!
---
Chrystal Désilets is KAIROS' Indigenous Rights Program Coordinator. She is an Algonquin Storyteller and Traditional Counsellor from the Pikwakangan First Nation. Chrystal is also known as a founder of Aunties on the Road, Wananoshka Mashkiki