Spirited Reflection: Love is the Revolution
---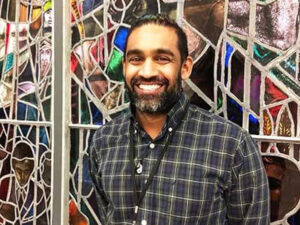 This reflection is dedicated to the late Rev. Jim Kirkwood who modeled and lived a life of Revolutionary Love.
During our weekly Wednesday morning staff meetings, my boss Rob Dalgleish often throws a fist in the air and emphatically and syllabically proclaims 'Rev-o-lu-shon'.  
These surely are revolutionary times. Times that require revolutionary responses to the social and economic crises we are facing, rather than the slow incremental changes that we generally seemed to negotiate with complex structures of power in the old world…that is, the world before the Corona virus pandemic brought human society to its knees.
Rob is in his early sixties, roughly the same age as my own father, and although we are all experiencing the pandemic through the social location of our respective race, socioeconomic class, gender and physical and mental health status, I would argue that age is a key factor in how we think about building back in the aftermath of what has been exposed.
Like most educated millennials in my early thirties, my generation and those younger than me are acutely aware that we will live into an uncertain atmospheric future on Earth. The stress on the planet from industrialization, consumerism and a growing population consuming carbon-intensive goods such as red meat are all proxies for what atmospheric scientists have been telling us for some time. For perspective on the generational gap, when my father was born in India in 1956, the population of India was under 450 Million and the population of the world was under 3 Billion. In his lifetime the population if India has mushroomed to 1.35 Billion and the world population is nearing 8 Billion. As baby boomer, my father saw the largest ever expansion of the world's middle class but will (hopefully) not live to see the worst effects of climate collapse.
On a less macro scale, my generation also faces concurrent crises of the rise of the gig economy and unprotected labour, increasingly unaffordable housing and polarized political ideologies. We so desperately need a revolution. Not only in our carbon intensive economy, how we work and how we politic with one another, but essentially in how we live in relation to one another and the earth.
I was fairly maladjusted to the old world.
It was a world in which we'd accepted so much pain and suffering as collateral damage to the economic growth our society was predicated on. For many of us with enough privilege to spend our time and energy figuring out how to build a more just world, the fallout from the virus initially seemed like an enormous opportunity.
Overnight so much of the discourse that exists on the fringes or in activist and social justice circles claimed the front pages on every newspaper; housing folks living on the streets, domestic violence, access to food, the vulnerability and social isolation of seniors. An inconvenient truth about the sense of urgency that propelled us to rethink our society is that we didn't suddenly realized the value intrinsic in all life and decide that no one would be left behind, but rather, we could not afford for the poor and vulnerable to infect those of us higher up on the socio-economic ladder with the virus. We could no longer maintain the myth of our individualism when the virus could penetrate even the highest of fences or finest of restaurants. Lest we forget that we are one cosmic human organism on this planet and this global pandemic that is now our unitive reality began, as far as we know, with one single human being in Wuhan.
When George Floyd was murdered by the Minneapolis Police on May 25th, much of the western world was quarantined at home and had nowhere to look away. Though particularly egregious, his murder was unfortunately and by no means unprecedented.  The world had no birthday parties to go to, no classes to attend, no errands to run…just hard truths to stomach and questions to ask ourselves around how we want to show up in the world. What was new, and can remain so if we seize this Kairos moment, is our individual and collective resolve to rooting out white supremacy as it manifests in our thoughts, words and actions. 
I have spent much of my adult life nostalgic of the '60s and '70s, decades that had lapsed before I was even born in the mid '80s. The deep political engagement in second wave feminism, the civil rights movement, the anti-war movement and the proliferation of psychedelics drew me to that era in a way I can't quite explain. The zeitgeist of civil rights actions around the globe in the month of June, 2020 was the closest thing I'd experienced to that collective shift of consciousness and I was grateful to be living in revolutionary times.
One thing I did not anticipate, however, was the immense grief and pain that seemed to permeate every cell of my body as I watched the resistance to the uprisings, particularly The Untied States of America militarize itself against its own citizens. I have a visceral memory of breaking down in tears one day in the shower. Having previously paid it no attention, the innocuous green shower tile is seared into my memory as if it were a detail from a profound memory from my childhood. More recently as the worlds grief seems to compound with the explosion of Beirut's port, deadly wildfires in California and mass death worldwide from Corona virus, the shortest passage of scripture seems to hold more solace than anything else I'm able to grasp. 'Jesus wept' (John 11:35) affirms to me that God, in her most relatable human manifestation, indeed weeps alongside us as we process the suffering and grief in our personal lives and for the world.
True revolutions often occur when a critical mass of people can no longer continue living as they were and double down on an audacious path, risking the meager comforts they do have for a more just and better life. To me, entering an explicit spiritual life path was a last resort as it is for many, and in some ways, I naively thought it would be a one-time revolution. Not necessarily as a form of absolution or redemption, but one that would provide clear guidelines around how to live in our complex world. Unfortunately that wasn't the case, though I did find a treasure far greater; becoming part of a community of seekers who traverse life in community, seeking to be conduits for higher love to work through.
Power is generally understood and employed in our world as coercive, aggressive and loud. The collective western psyche generally associates revolutions with the toppling of dictators, large crowds chanting in public squares and statues of oppressors of times past coming down. I'm all for this and come alive with the energy when I'm part of a group of people demanding change to usher in more just ways of being, but there is a subtler, quieter revolution that is accessible to each of us, anywhere we may be.
This other type of revolution is graceful and merciful an could perhaps not be described as anything other than Love (agape). Talib Kweli's track Beautiful Struggle begins with a monologue stating that 'the revolution is inside of you' to which I would add, that it happens in each of us every time we show up for one another, forgive one another, sit with each other's pain and anguish, and work to upend toxic systems of programming embedded within us. As Audre Lorde said 'Revolution is not a One-Time Event.'
Instead of waiting for the grander revolution, I submit that we aspire for the revolution of Love, shedding layers of the world's pain and listen within to where our own sense of agency and power lies, and from that place, rooted in infinite love, do the work of love and healing within arm's reach.
---
Joshua Fernandes jokes that he is a burnt-out activist, recovering from a young male ego. He hopes to approach outer social change through the frame of inner spiritual transformation. He loves cycling, cooking, civic engagement and building and being in community. Professionally, he works with EDGE: A Network for Ministry Development, the innovation team for the United Church running Social Business Pitch Competitions across the country to help build a more compassionate and equitable economy for all.