Spirited Reflection: That you should enter under my roof
---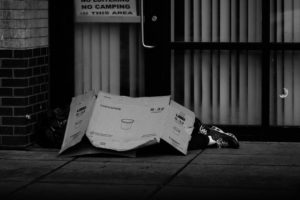 A man approaches. He gives me a Happy Easter greeting. I give him the same, and two dollars. A woman comes, desperate to get to the hospital. I give her cab fare; she thanks me and touches my arm. A young man asks for breakfast. I send him on his way with the funds after he wishes me well. One man, covered in grime, wordlessly shuns the coins I try to give, but later accepts a sandwich and coffee from me. He gives me his image, for years to come.
So on it went, on the long walk from my comfortable office in downtown Toronto to my commuter apartment a few blocks away. Every day and every night, for the five years that I worked there. I passed the people, one by one, not just young or middle-aged men, but women and even children who were trying to survive. For an age, I carried an extra lunch for Misha, an old man who lived in the bus shelter and slept in a nearby all-night coffee shop thanks to the manager. My communication with Misha was mostly his hand coming out from his pile of blankets to take the brown bag. This memory and his presence stay with me still.
Overwhelmed and with a sense of urgency, but also inexplicably drawn, I took to carrying loose change to dispense on the walks down Yonge, University or Bay and Bloor. I stopped and listened to requests, explanations, stories, conspiracy theories and sometimes blessings. All these I learned, over time, to receive. Sometimes blessings came in unexpected ways.
A man sits partly in the roadway, traffic moving around him as a well-dressed woman bends over him, her jewelled hand offering him hot coffee and food to coax him onto the sidewalk. The morning sun seems to catch them both as I drive slowly by. A youth waits patiently for my offering until I frantically discover that, in my haste, I have left my wallet in a nearby phone booth. He retrieves it and commiserates. I thank him and buy him lunch.
Helpless to do much else, I find the faces stay with me long after these encounters, but this is a good thing because I am learning. Due in part to a series of unexpected and heart-wrenching deaths of family and friends, I am learning how the fragility and vulnerability of life binds us all. I am learning, partly in my work and in my reading, and from the people who advocate for others, of the causes of poverty and homelessness. I am learning, when the people at the drop-in centre where I eventually start to volunteer, take time to comfort me despite their own troubles, that life is giving and receiving, and that the best of this comes from the heart.
For I have learned that these people are also my church, my daily communion. If, in my spiritual poverty, I fail to recognize their passions and resurrections, if I fail to give and receive, if I fail to recognize the face of Christ in my fellow travellers in this life, as I sometimes too often do, then I thwart the possibility to recognize passions and resurrections in my own soul. A fragment of the Catholic communion prayer comes to me—Lord, I am not worthy that you should enter under my roof. But there you are.
---
Virginia McDonald is a retired reporter photographer living in Guelph who worked for a stint as a media and legislative aide at Queen's Park. She has also volunteered at a drop-in centre and at a Catholic retreat house kitchen and farm.