Speak for the Silenced
---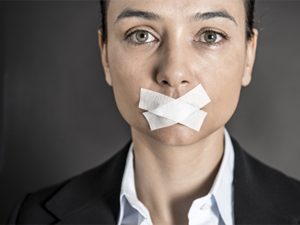 Politically motivated audits by Canada Revenue Agency have silenced the voices and threatened the future existence of vital charities in Canada.  Here is a chance to do something positive about this injustice. Send a letter to Prime Minister Trudeau to voice your concern and protect our free speech.
KAIROS joins with others to help ensure the creation of policies that benefit marginalized communities and contribute to the common good.  While we persist in sustained advocacy, these actions are made more difficult by an antiquated charity law that confuses and unduly restricts our efforts.
In 2016 we participated in a consultation, contributing our views on the modernization of the charity law to an expert panel.   We were heartened by their recommendations in March of 2017, which include a clear action to fix the broken system.
However, we and many other organizations have been dismayed that, to date, no action has been taken.  Therefore, we need to raise our voice so that it's clear to the government that we want to fix our broken charity laws now. We ask you to send a letter to the Prime Minister asking him to create a new law to protect Canadians' right to be heard through charities they support.  Your letter will also be sent to your Member of Parliament so they can help ensure the right decision is made.
Please see attached the letter KAIROS has sent to the Prime Minister to express our dismay and our hope to see movement soon on a new, modern law that affirms free speech and removes ambiguous and arbitrary guidelines.