South-South exchange meeting between the Democratic Republic of Congo and South Sudan
---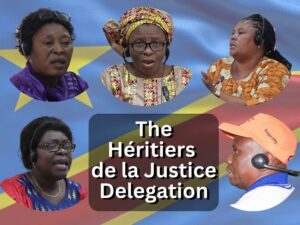 Five delegates from the organization Héritiers de la Justice (HJ) and three from the South Sudan Council of Churches (SSCC) are meeting from July 17 to 22, 2023 in Nairobi, Kenya, to exchange their experiences in promoting and protecting women's rights and peace. Delegates represented implementing partners of the KAIROS Women of Courage: Women, Peace, and Security (WPS) Program in the Democratic Republic of Congo (DRC) and South Sudan since April 2018.
Apart from the introductory session, which enabled participants to get to know each other and to set out the reasons for the meeting, the first two days were mainly used to talk about Héritiers de la Justice, the context (political, security, humanitarian, judicial, human rights, socio-economic and environmental) in DRC since the start of the project's implementation, the target groups or social categories, the qualitative and quantitative results achieved and the project's current challenges. During the discussions, special mention was made each time of the efforts already made and those still to be undertaken to strengthen women's economic empowerment and their ability to speak up.
In light of the experiences and testimonies shared by the HJ delegation, as well as the pertinent questions raised and other rich contributions made by the SSCC representatives, many similarities emerged between Congolese and South Sudanese realities, particularly with regard to the status of women and their commitment to the quest for recognition and respect for their dignity, their universally recognized rights, and their inclusion and full participation in the processes of peace-building, development and democratic governance at the local and national level.
In addition to the three women delegates from the South Sudan Council of Churches (SSCC) and five representatives of Héritiers de la Justice, including one man, from the DRC, the Nairobi meeting was attended by two representatives from KAIROS.
Here is what HJ participants had to say about the exchange:
"For a better global future, every country, international organization, and individual must make preventing and combating environmental destruction and global warming one of their top priorities. The joint involvement of men and women at all levels will be key to the success of climate justice programs around the world."

Chantal Bilulu
"Supporting women in their empowerment initiatives: a matter for one and all."

Néné Lubala Neema
"Let's multiply our efforts that make women true artisans and actors of peace in their families, communities, and countries."

Pélagie Assengo
"Let's encourage the education of women and girls so that they give their best in the restoration and consolidation of peace in their communities and in the world."

Marie M'Nagarhi Baseme
"Despite the political, security and socio-economic context in the Democratic Republic of the Congo and South Sudan, which continues to give cause for concern, and which acts to perpetuate discrimination and other forms of violence against women, the women who benefit from the Women, Peace and Security Program run in these African countries by HJ and SSCC, with funding from Global Affairs Canada and the Kairos, are not giving up. They are demonstrating courage, determination, and enlightened commitment to the recovery of their dignity and their effective egalitarian participation in peace processes and decision-making bodies in a peaceful, democratic society that respects universally recognized human rights for all."

Gérard Kwigwasa