Shaping Canada's New Caregiver Program Post November 2019
---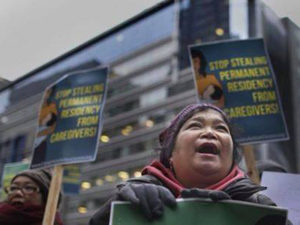 Canada's plan to end its Caregiver Program in November 2019 presents a golden opportunity to advocate for improved working conditions and a guaranteed pathway to permanent residency for all migrant workers.
In April 2018, KAIROS formally submitted Shaping Canada's New Caregiver Program Post November 2019 to Immigration, Refugee and Citizenship Canada (IRCC).
The submission is based on years of working with caregivers and other foreign temporary workers, feedback from more than 500 migrant caregivers and advocates at recent workshops in Ontario, Quebec and Alberta, and presentations by delegates to IRCC staff on March 23 in Ottawa.
KAIROS' five recommendations to the IRCC include granting caregivers permanent residency upon arrival in Canada and clearing the backlog of applications made by caregivers, to name a few.