Trailblazer: The Ottawa Renewable Energy Co-operative
---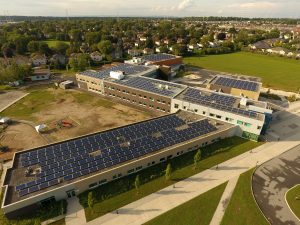 Creating an Energy Revolution through Community Investing
The Ottawa Renewable Energy Co-operative (OREC) is a leader in community-financed renewable energy. In realizing its goal to "generate decentralized renewable energy in Eastern Ontario," it enters into partnerships with property owners, installing energy projects on their buildings or their land. As a cooperative, it is governed democratically by its members, who are eligible to buy shares in its projects.
---
In its first several years (2010-2017), the Co-operative focused exclusively on solar projects. General Manager Janice Ashworth observes that solar energy is clean and sustainable, as well as scalable to urban contexts where energy needs tend to be concentrated. In addition, solar power is most readily available when energy use tends to peak during oppressive summer heat waves. Finally, solar installations can often be engineered to consume space that is not already being used, such as a rooftop.
Investing with OREC requires a one-time membership fee of $100. Investment is low-risk due to the Co-operative's twenty-year contract with Ontario's Independent Electricity System Operator (IESO). Since 2010, OREC has built up a membership of over 700 Eastern Ontario residents and has held five securities offerings, receiving more than $7 million in investment. Growth of the organization has been carefully managed in order to increase its capacity and diversify its expertise.
OREC's plan has benefits for the broader community as well. Collectively, communities spend a lot of money on energy, and under Ontario's current system that money seldom makes its way back to the local region. But all of OREC's solar energy installations are in Eastern Ontario, and the revenues they generate are returned to local hands through investments that OREC makes available. As well, OREC's projects employ local engineers, electricians, and construction professionals. In recognition of recent work, the Co-operative won the Community Project of the Year Award at the 2016 Powering Prosperity Awards presented by the Ontario Sustainable Energy Association.
A range of criteria help to determine where OREC will implement a project: access to the grid, potential to generate electricity, and a good collaborative relationship with the partner(s). Visibility to the public is another consideration. Ashworth notes that she is glad when approached by school boards as partnering with them is an opportunity to place a valuable educational focus on renewable energy. Projects have also been installed on private barns, warehouses, and non-profit housing. Faith groups, of late, have also been expressing interest in partnering with OREC.
---
"The students all feel that solar power is a great way to go, and the project at Franco is really good. A lot of teachers I know were involved, and now I can see the panels from the windows of some hallways, which is cool!"
— Maxime Howards, a high school senior at Franco-Cité Catholic High School in Ottawa, the site of one of OREC's solar power rooftop installations.
---
Asked about her personal motivation for becoming involved in the renewable energy sector, Ashworth replies, "I was motivated by the urgent need to reduce greenhouse gas emissions (GHGs) to mitigate climate change. Since two-thirds of our GHGs globally come from energy consumption, a clear starting path is to shift our energy generation away from fossil fuels and towards renewables." With a current aggregate of 1.7 MW generating capacity, the Ottawa Renewable Energy Co-operative has been doing its part to drive that shift.
The Ottawa Rewnewable Energy Cooperative will be launching its sixth local solar investment opportunity in January 2018. All are welcome to learn about this offering on January 18, 2017 during a launch party at the Red Lion Public House in Ottawa.

---
Written by Isabel Macfarlane, with Richard Thompson