Nairobi workshop helps break down onerous reporting barriers for Women, Peace and Security African partners
---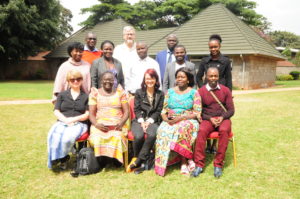 Staff of the South Sudan Council of Churches (SSCC) and Héritiers de la Justice (HJ) in eastern Democratic Republic of the Congo (DRC), two of the five KAIROS Women of Courage: Women, Peace and Security partners, met in Nairobi, Kenya in July for a capacity building workshop financial and narrative reporting.
With funding from Global Affairs Canada come rigorous and frequent reporting requirements that are challenging and often inaccessible to grassroots organizations like our partners. In response, KAIROS advocates for more accessible reporting requirements for grassroots partners. At the same time, a priority of the Women of Courage program is south/south exchange and capacity strengthening so grassroots organizations can access funding and manage programs on their own. This workshop had been requested by partners with this objective in mind.
The workshop took place at the All Africa Conference of Churches Desmond Tutu Conference Center, in Nairobi, Kenya from July 15-18, 2019. KAIROS was assisted in organizing the workshop, including simultaneous English-French translation, by KAIROS sub regional partner the Fellowship of Christian Councils and Churches in the Great Lakes and Horn of Africa (FECCLAHA) which works with its members in South Sudan and eastern DRC. The workshop included, in addition to translators, 12 participants including three each from SSCC, HJ, FECCLAHA and KAIROS.
The workshop accomplished a variety of things related to financial and narrative reporting including strengthening partners' understanding of Global Affairs Canada and KAIROS' WPS financial and narrative reporting needs. At the same time, partners' contexts as well as experiences during the first year of programming were shared. In all, there were some 20 recommendations and actions discerned which have been shared with all partners in a detailed report.  The workshop was also an opportunity for relationship building and strengthening understanding, commitment and advocacy around a common program. There was time devoted to both South-South exchanges and gatherings as well as team building among the workshop participants, and daily opening and closing reflections.  Despite the seemingly onerous and challenging topic of reporting, there was a lot of laughter, warmth and fun.