KAIROS Women of Courage Program: Being a Feminist every day of the year
---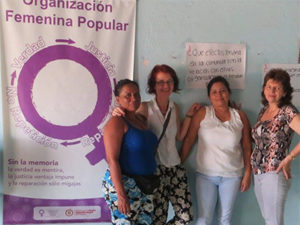 On International Women's Day everyone is encouraged to be a feminist.  It's one day of the year where we have the rare opportunity to highlight the women's movement and the significant achievements of courageous women, as well as current struggles for justice and equality.
In 2018, it's almost trendy to be a feminist.  We have a feminist Prime Minister and, for the first time, Canada can boast a Feminist International Assistance Policy – FIAP. This policy proudly states that women's rights and empowerment are both a pillar and a cross cutting theme in Canadian international development. The policy also announces Canada's commitment to support women- specific organizations and movements as well as organizations that have integrated women's rights and empowerment into their programs.  Feminist organizations are recognized as critical catalysts in international development.  This policy also outlines areas of focus that include governance, climate change and women, and peace and security.
KAIROS has a long history of working with women's organizations and movements in the Global South and in Canada on issues of human rights, peace building and ecological justice. We have learned from these partners about the importance of being a feminist every day of the year. Long before FIAP we learned about the importance of focusing on women's organizations as pillars and as catalysts in our justice work.  We had a gender policy that stipulated that at least one partner in each region be a women's focused organization or network.   Together with these partners we built the Women of Courage program at KAIROS
We have also learned that being a feminist means striving to includeall women and addressing the obstacles to their inclusion including racism, colonialism and homophobia.  It means addressing the root causes of inequalities and injustice and working on Indigenous rights, ecological, economic and social justice.
Feminism means addressing the fact that women are differently and often disproportionately affected by war, militarization, poverty, environmental destruction and climate change.   And it is about supporting and making visible the dynamic women and movements who have the solutions and are bringing about the radical change required.   This is the essence of our Women of Courage program.
We have learned that it is not easy to be a feminist. Our partners risk their lives to do this work.  They face discrimination, harassment, stigmatization and even death as a result of their struggles for land, the environment, human rights and inclusive peace. And they do this every day of the year.
This year we are happy that it is finally acceptable (and even trendy) to be a feminist, but we urge Canadians and the Canadian government to fully embrace the challenge. It's risky, at times unpopular and must result in transformation of power.  But it's what's required to be a feminist and to really implement a feminist international assistance policy.
This video has English subtitles. Click on CC icon to activate.
On International Women's Day (March 8) we honour and celebrate two women of courage: Agnes Wasuk and Awak Deng from the National Women's Programme of the South Sudan Council of Churches (SSCC), a KAIROS partner.
In November 2017, Agnes and Awak participated in the NO MAS II tour which coincided with the UN's 16 Days of Activism against Gender- Based Violence.  They travelled to seven cities in four provinces in Canada to speak about their critical work of grassroots women in building peace in South Sudan and how Canadians can help.
In Ottawa, they met with Parliamentarians and staff of Global Affairs Canada, urging more support for grassroots women's organizations. Agnes and Awak epitomize the Women of Courage program and the courageous and effective work of our partners in building inclusive, just and lasting peace.  They are a clear example of why the Canadian government and civil society need to support local women's rights organizations financially and politically.
This video profiles the tour and the vital work of the National Women's Program of the SSCC.