KAIROS welcomes Canada's first-ever Ambassador for Women, Peace and Security
---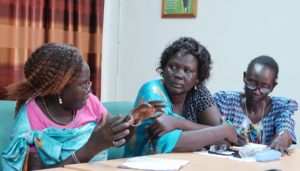 KAIROS joins other members of the Women, Peace & Security Network-Canada (WPSN-C) in applauding the Government of Canada for the appointment of Canada's first-ever Ambassador for Women, Peace and Security and in welcoming Jacqueline O'Neill to this new post.
WPSN-C has posted the following media release.
KAIROS is optimistic that this appointment demonstrates Canada's commitment to the women, peace and security agenda. It comes at a critical time globally, with women seeking representation and support in peace processes in conflict countries throughout the world.
Upon hearing the news Chantal Bilulu, Women's program coordinator for Héritiers de la Justice, KAIROS partner in the Democratic Republic of the Congo remarked: "We are encouraged by this decision by the Government of Canada. This is the result of the advocacy work of KAIROS and other Canadian civil society organizations. With this appointment, Canada is showing its willingness to see women play a role in conflict prevention and peacebuilding."