KAIROS joins #StatusforAll and Landed Status Now campaign
---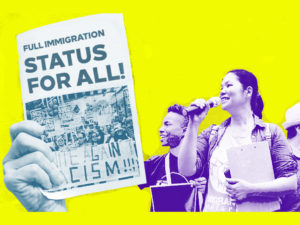 KAIROS joins the Migrant  Rights  Network in calling on the federal government  to  provide  Status for All and Landed Status Now.  
COVID-19 has exposed deep inequities, including those faced by foreign migrant workers who are needed in Canada to care for children, the elderly and those with special needs, and to plant, harvest and process our food.
For years, KAIROS, together with migrant workers' organizations and like-minded groups such as the Migrant Rights Network, has called on the federal government to grant permanent residency to these essential workers. During this time of COVID-19, the need for permanent residency is more acute than ever.
Please join KAIROS in supporting this important campaign, which officially kicked off on June 14.