KAIROS calls for the release of water and land defenders in El Salvador.
---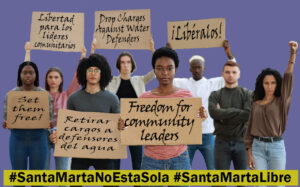 The flow of the river water cannot be detained for long!
KAIROS, along with other 251 Organizations from 29 countries has signed a solidarity statement calling on the Salvadoran government to drop the charges against leading Water Defenders arrested on January 11th, some of them are part of the staff of the Association for Economic and Social Development (ADES) and leaders of the community of Santa Marta El Salvador. ADES is a global partner of The United Church of Canada, and on several occasions staff of ADES have been hosted by KAIROS and participated in ecumenical events. Their work is close to the heart of KAIROS's work with land and water defenders around the world, centering the voices of women, youth, and the those most impacted by armed conflicts, climate change, and extractivist projects.
These activists and environmental water and land defenders were among the leaders of the historic campaign that convinced the Salvadoran legislature to unanimously pass a ban on metals mining in 2017 that would protect rivers and inland waters of a small country in desperate need to preserve their water natural resources.
With many other sister organizations and partners, we will continue to advocate for their prompt release. We invite you to hold those detained, their families, and the entire community in prayer at this time. See the Solidarity Statement with all signatories here
---
Silvia Vasquez-Olguin -Kairos Latin America and Gender Justice Coordinator