KAIROS appoints Aisha Francis as Executive Director
---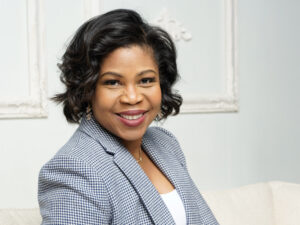 KAIROS Steering Committee is pleased to announce that Aisha Francis has been appointed as Executive Director of KAIROS effective May 17, 2021.
Aisha is a seasoned professional with twenty-five years of diverse leadership and business experience across the private, corporate and non-profit sectors. Called upon as a thought-leader, creative visionary and prolific speaker, Aisha is also an author who has the gift of connecting narratives, experiences and ideas seamlessly with structure and strategy to energize, motivate and inspire purpose-driven action and achievement.
In 2014 Aisha founded Project Restore, a grassroots organization with a focus on justice, racial equity and access for families impacted by incarceration (FIBI). Aisha has significant experience in leadership development in a faith-based organization and a strong background in advocating for racial justice issues. She also has an extensive background in corporate budget and operational oversight.
She sits as a director on the Boards of Ajax Public Library, CEE Centre for Young Black Professionals and Eva's Initiatives for Homeless Youth. Aisha is the recipient of many awards and recently she was selected as one of the 100 Accomplished Black Canadian Women for 2020.
The KAIROS Steering Committee looks forward to working with Aisha Francis on the challenges and opportunities that face KAIROS.
We express our thanks to Lori Ransom who stepped in as Interim Executive Director on January 1, 2021, seconded from her role as Reconciliation and Indigenous Justice Animator, Indigenous Ministries and Justice of the United Church of Canada. Lori will assist Aisha in the transition process.
The KAIROS Steering Committee also thanks the United Church of Canada for facilitating this important transition resulting in the appointment of Aisha as KAIROS's new Executive Director.
---
KAIROS nomme Aisha Francis au poste de directrice générale
Le comité directeur de KAIROS est heureux d'annoncer qu'Aisha Francis a été nommée la directrice générale de KAIROS à compter du 17 mai, 2021.
Aisha est une professionnelle chevronnée avec vingt-cinq ans d'expérience diversifiée en leadership et en affaires dans les secteurs privé, corporatif et sans but lucratif. Invoquée en tant que leader d'opinion, visionnaire créative et oratrice prolifique, Aisha est également une auteure qui a le don de relier les récits, les expériences et les idées de manière transparente avec de la structure et la stratégie pour dynamiser, motiver et inspirer des actions et des réalisations motivées.
En 2014, Aisha a fondé Project Restore, une organisation de base axée sur la justice, l'équité raciale et l'accès des familles touchées par l'incarcération. Aisha a une expérience significative dans le développement du leadership dans une organisation confessionnelle et a une solide expérience dans le plaidoyer pour les questions de justice raciale. Elle possède également une vaste expérience en matière de budget d'entreprise et de supervision opérationnelle.
Elle siège en tant que directrice au conseil d'administration de la bibliothèque publique d'Ajax, du Centre CEE pour les jeunes professionnels noirs et des initiatives d'Eva pour les jeunes sans-abri. Aisha a reçu de nombreux prix et a récemment été sélectionnée comme l'une des 100 Canadiennes noires accomplies pour 2020.
Le Comité directeur de KAIROS se réjouit de travailler avec Aisha Francis sur les défis et opportunités auxquels KAIROS est confronté.
Nous remercions Lori Ransom qui est intervenue en tant que directrice générale par intérim le 1er janvier 2021, détachée de son rôle d'animatrice de réconciliation et de justice autochtone, Ministères autochtones et de justice de l'Église Unie du Canada. Lori assistera Aisha dans le processus de transition.
Le Comité directeur de KAIROS remercie également l'Église Unie du Canada d'avoir facilité cette importante transition qui a abouti à la nomination d'Aisha au poste de nouvelle directrice générale de KAIROS.
---
KAIROS nombra a Aisha Francis como directora ejecutiva
El Comité Directivo de KAIROS se complace en anunciar que Aisha Francis ha sido nombrada Directora Ejecutiva de KAIROS a partir del 17 de mayo de 2021.
Aisha es una profesional con veinticinco años de experiencia de liderazgo y en el ámbito empresarial en los sectores privado, corporativo y sin fines de lucro. Aisha, ha sido reconocida como líder intelectual, visionaria creativa y speaker prolífica, también es una autora con la capacidad de tejer relatos, experiencias e ideas en conjunto con la estructura y estrategia para potenciar, motivar e inspirar acciones y logros con un propósito.
En 2014, Aisha fundó Project Restore, una organización de base con un enfoque en la justicia, la equidad racial y el acceso para las familias afectadas por el encarcelamiento (FIBI). Aisha cuenta con una trayectoria significativa en el desarrollo de liderazgo en una organización religiosa y un sólido desempeño en la defensa de la justicia racial. También cuenta con una amplia experiencia en la administración de presupuestos corporativos y supervisión operativa.
Es directora de las juntas directivas de la Biblioteca Pública de Ajax, el Centro de CEE para Jóvenes Profesionales Negros y Eva's Initiatives for Homeless Youth. Aisha ha recibido muchos premios y recientemente fue nombrada una de las 100 Mujeres Canadienses Negras Mas Destacadas para 2020.
El Comité Directivo de KAIROS está interesado en trabajar con Aisha Francis en los desafíos y oportunidades que enfrenta KAIROS.
Expresamos nuestro agradecimiento a Lori Ransom, quien asumió el cargo de Directora Ejecutiva Interina el 1 de enero de 2021, secundada de su papel como Animadora de Reconciliación y Justicia Indígena, Ministerios Indígenas y Justicia de la Iglesia Unida de Canadá. Lori ayudará a Aisha en el proceso de transición.
El Comité Directivo de KAIROS también agradece a la Iglesia Unida de Canadá por facilitar esta importante transición que resultó en el nombramiento de Aisha como la nueva Directora Ejecutiva de KAIROS.