Joint statement of the ENSS on Pope Francis' 'pilgrimage of peace'
---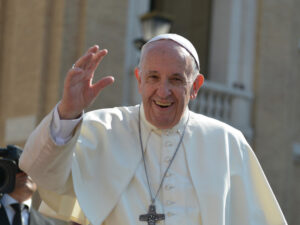 Joint statement of the Ecumenical Network on South Sudan on Pope Francis' 'pilgrimage of peace'
Member organizations of the Ecumenical Network of South Sudan (ENSS), including KAIROS Canada, have released a joint statement calling on the global Church and for governments worldwide, to strengthen transformative peace and justice efforts for the people of South Sudan, as the country prepares for the upcoming ecumenical pilgrimage of the Pope, the Archbishop of Canterbury, and the Moderator of the Church of Scotland. Pope Francis is on a "pilgrim of peace" to the Democratic Republic of Congo and South Sudan between January 31 to February 5, 2023.
The joint statement reiterates ecumenical support for the South Sudan Council of Churches, a KAIROS Women of Courage: Women, Peace and Security program partner, as it facilitates the coming together of church leaders across denominations, and political and ethnic divides – a unity which may help envision an increasingly unified South Sudan.
Despite the signing of a peace agreement, violence is still present in various regions of the country, due to political conflict, and civil war. This is compounded by economic hardships and drought that have caused massive displacement and food shortages. ENSS notes the multiple challenges on the path to holistic peace, unity, justice, and reconciliation, including the impact of poverty, climate change, Covid-19 and conflict.
The statement calls for the full implementation of the peace agreement, the Roadmap to the Revitalized Agreement on the Resolution of the Conflict in South Sudan (R-ARCSS), unity, justice and reconciliation.
Jackcilia Salathiel, the National Women's Coordinator at the South Sudan Council Churches' National Women's Program, shares SSCC's mission and robust peace, justice and reconciliation initiatives with South Sudanese women in this recent KAIROS Women of Courage podcast episode.
Read the full statement of the Ecumenic Network on South Sudan.