Join the Rally & March: Rights, Regularization, Status for All!
---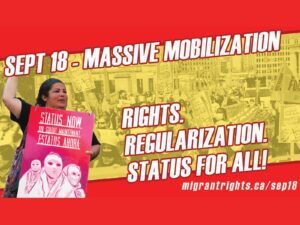 The Migrant Workers Alliance is building a massive mobilization on Sunday, September 18 in cities across Canada.
Please join this unprecedented opportunity to win permanent resident status for nearly 1.7 million migrants and stop deportations. You are encouraged to organize a contingent to attend. Let's make this a BIG mobilization!
The federal government is closely watching the scale of support for migrant justice right now. Regularization is finally on the table. The last mass regularization program was 50 years ago. The government will set the scope of its ambition based on the strength of our mobilization. If thousands of people take to the streets, sign petitions, and make phone calls, it will encourage the government to create a comprehensive and transformative change that will give rights to all. 
September 18: Rights, Regularization & Status for All! 
Sunday, September 18, Canada-wide 
On September 18 – one day before Canadian Parliament returns – we will gather in the thousands to demand equal rights and permanent resident status for all undocumented people, migrant workers, students, families and refugees. A historic regularization program is on the horizon, but we need to take to the streets to ensure that no one is left behind. This is the one, ALL OUT!  
Responding to many decades of actions and campaigns, the federal government has initiated planning for a regularization program, i.e. a program to give citizenship rights to undocumented people. The only question is how many of the half a million undocumented migrants in the country will be given equal rights. At the same time, permanent resident status for migrant workers, students and families is being considered. 
This is a historic opportunity. If we succeed, potentially 1.7 million people will be able to get decent jobs, get out of poverty, access essential services, assert their rights safely, and be able to reunite with their families. Regularizing 500,000 people will increase employer contributions by at least $1.1 billion in the first year. 
Already, big businesses and other anti-immigrant groups are beginning to push back. Those that make profit from migrant precarity oppose equal rights and they will get louder in the weeks to come. It is crucial that all of us that fight for fairness take to the streets and speak up in unprecedented ways.