Introducing Tia Kennedy, youth delegate
---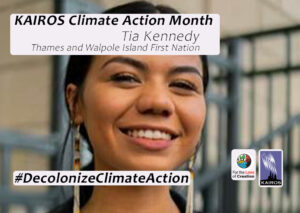 Meet Tia Kennedy. She is one of the KAIROS/For the Love of Creation youth delegates in COP 27 delegation. Tia is from the Oneida Nation of The Thames and Walpole Island First Nation. She has recently begun working for the Assembly of First Nations as a policy analyst.
Tia has international experience, including an exchange with Indigenous peoples in Peru and has spoken at events such as the Global Women's Forum in Paris and the Right Here, Right Now Global Climate Summit. She is working on a short film highlighting her family's connection to the devastating water crisis in First Nation communities.
In her video introduction, Tia says, "I think the biggest way climate change is affecting my work is through my mental health. It's difficult to focus on health policy when the health of our planet is so scarce. How can we manage to heal ourselves when we can't heal the Earth?"

She believes current governments in Canada, "are not willing to make the necessary changes and have a history of excluding Indigenous peoples in decision-making forums about the land while also failing to uphold restrictions in holding corporations accountable for the degradation of our ecosystems."
She explains that in the past few years, she has been on a journey of heritage reclamation.
As part of this delegation, Tia will have the opportunity to advocate for Indigenous rights in front of global leaders. Indigenous knowledge and resistance are integral to the future of this planet.
Watch Tia's introductory video: