In solidarity with organizations and activists in the Philippines
---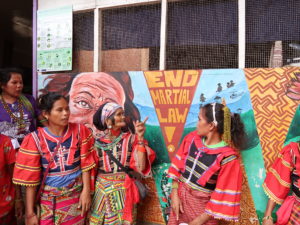 KAIROS has signed on to a joint letter from members of the Canadian Council for International Cooperation calling on the government of the Philippines to end the practice of red-tagging against human rights, environmental and humanitarian organisations. We signed this letter in solidarity with our partners in the Philippines, the National Council of Churches in the Philippines (NCCP), who were included on a list of "front organizations of local communist terrorist groups" by the Department of National Defense on November 5, 2019.
The NCCP is a fellowship of churches following God's call to serve the people of the Philippines. Their programs are focused on service, ecumenical education, and Christian unity. In these efforts they have worked with many churches and communities, including local government units and government line agencies. KAIROS has worked in solidarity with NCCP on the delivery of our Women of Courage program and continues to support their ongoing efforts to defend Human Rights in the Philippines.
Red-tagging is a practice through which the Government of the Philippines claims human and environmental rights defenders and their organizations, as well as humanitarian workers and their organizations among others are supporting the New People's Army associated with the communist movement. It is an established and very dangerous tactic used to suppress perceived political dissent.