Fossil fuel subsidies #KAIROSClimateAction
---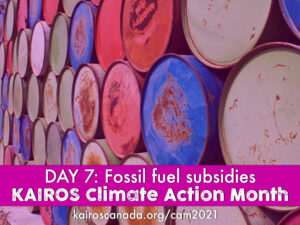 In 2009, Canada committed to phasing out inefficient fossil fuel subsidies, as part of the G20. A clear definition of "inefficient" was never developed, but the commitment was to phase them out by 2025. Yet in 2020, during the COVID-19 pandemic, Canada had provided or announced at least $18 billion in subsidies and public financing for the oil and gas sector. The International Energy Agency (IEA) released a report earlier this year concluding that achieving net-zero by 2050 requires no new fossil fuel development or production. These subsidies are incompatible with pathways to achieving that goal. New subsidies introduced during 2020 include support for Newfoundland and Labrador's offshore oil industry, a new credit through Export Development Canada, and funding to clean up orphaned and abandoned oil wells.  
It has been argued that support to clean up oil wells is not a subsidy, but this is a common misconception. The onus and responsibility for remediation activities should fall on the company. This is called the "polluter pays" principle. Polluters should be the party responsible for the costs and damages related to the contamination and pollution they cause.
Export Development Canada (EDC), a crown corporation, provided more than half of the subsidies and public financing in 2020. EDC provides oil and gas companies with an average of $13 billion in support each year. EDC is Canada's export credit agency, which includes public entities that provide corporations with government-backed loans, guarantees and insurance to support exports and foreign investments. EDC is not funded by the federal budget (it is financially self-sustaining) and has limited oversight by the government. Aside from reporting to Parliament, the agency has broad discretion to do as it sees fit, including its handling of social and environmental risks. More public scrutiny of EDC's activities and work to align the agency's climate policies with Canada's policies is required.
And let's not forget that Canada bought a pipeline! Federal financial support for the Trans Mountain pipeline is a significant subsidy to the oil and gas sector.
KAIROS Canada calls for an immediate halt to construction on the Trans Mountain Pipeline Expansion Project.    
In addition to these financial supports, the public continues to pay the social and health costs associated with air pollution, oil spills, and other externalities from the burning of fossil fuels. These funds are diverted from much needed investments in renewable energy development and infrastructure, the transformation of the buildings and transportation sectors, and they make the just transition for affected workers and communities more difficult.
Canada needs to develop a roadmap to end all subsidies, public finance and other fiscal supports to the oil and gas sector, including financial support provided through Export Development Canada by 2022. Furthermore, we need more transparency from the government on what public finance and fiscal support are being provided. All government spending programs should have strict emissions conditions attached.
#StopFundingFossils #FossilFreeEDC #DefundTMX
Learn More: