Decolonization is at the heart of effective climate action
---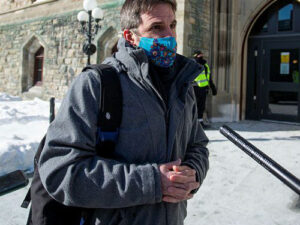 Photo: Environment and Climate Change Minister Steven Guilbeault, pictured on the Hill on Jan. 31, 2022. Decolonization is at the heart of effective climate action. This means giving space to Black and other racialized people, particularly women, to have a voice at decision making tables—something that COP26 failed to do, writes Radia Mbengue. The Hill Times photograph by Andrew Meade
Let's face it, the environmental movement has always centred white voices. When you think of a climate activist, who do you envision?
Would it surprise you that millions of people engaged in greenhouse gas mitigation and adaptation live in African nations? And that many of them are women?
Black History Month spotlights the legacy of Black communities. But to devote time to honour their lives and sacrifices for freedom and sustainable change, we'd need more than a month. We'd need years.
Héritiers de la Justice is one organization that immediately comes to my mind. A KAIROS partner, it is a grassroots and women-led organization in the Democratic Republic of the Congo that persistently supports women survivors of war, empowering them to become powerful local peace-builders, building secure communities based on protection of people and environment.
One way the organization financially empowers women is through its support for regenerative agriculture. Regenerative farming is not new. African farmers have relied on this practice for centuries. And while these farmers offer generational expertise and wisdom, their efforts only go so far when suddenly faced with long-term drought or heavy rain.
In 2019, the World Meteorological Organization reported that food insecurity, population displacement and stress on water resources are on the rise in Africa because of the climate crisis. Although African countries have contributed the least to climate change, they are impacted the most.
This is a clear example of environmental racism. Other examples are found closer to home. Race, more than poverty, increases the likelihood of exposure to pollutants, according to the U.S. Environmental Protection Agency. In Canada, it's no secret that polluting industries and waste dumps end up in racialized communities, burdening them with higher-than-normal rates of cancer, respiratory illnesses, and other chronic health problems.
Environmental racism persists everywhere because it has very deep roots that stretch back to slavery. A white supremacist narrative supports it and patriarchy enables it. It is perpetuated by resource extraction, including by Canadian companies and policies.
Colonization is an extractive relationship with exploitation at its centre. Today, Canada cheerleads its mining sector, providing generous diplomatic support to companies operating abroad, despite weak corporate accountability oversight.
These mining companies rely on a range of colonial-based techniques to set up mining operations, including displacement and violence. While mining companies and some government officials may extol the benefits of mining operations on communities, communities impacted by mining tell a very different story. These impacts are highlighted in the film Women Hold Up The Sky by the South African organization WoMin, another KAIROS partner.
The narrative—that white people from the rich north will help Black people in the Global South—gives this extractive wolf a sheep's cover. It's the same narrative that says it's acceptable to grant white people the biggest megaphone to drive climate research and solutions.
A more accurate story is that Black, Brown, and Indigenous peoples—particularly women—are indispensable in confronting the climate emergency. They hold the traditional ecological knowledge of agriculture and biodiversity and are powerful peace builders at the critical grassroots level.
The Canadian government talks a good talk about being feminist and a champion of human rights, but its practices don't always line up.
Resolving the climate crisis requires uprooting the very narratives and techniques that got us in this mess in the first place.
Decolonization is at the heart of effective climate action. This means giving space to Black and other racialized people, particularly women, to have a voice at decision making tables—something that COP26 failed to do.
It means holding extractive companies accountable by empowering its Canadian ombudsperson for responsible enterprise, and enacting legislation that requires Canadian companies to undergo mandatory human rights due diligence.
It means supporting the work of Indigenous, Brown, and Black voices to pass into law the environmental racism bill (C-266) to develop a national strategy, informed by them, to assess, prevent, and address environmental racism and to advance environmental justice.
It also requires committing at least $1.8-billion annually in bilateral climate finance for the Global South and prioritizing grassroots women's organizations.
Such actions would help Canada move from simply honouring Black people and communities during a dedicated month, to laying the groundwork for meaningful and ongoing climate action and justice.
---
Radia Mbengue is KAIROS Canada's Global Partnerships Coordinator: Africa and Climate Justice.
Originally published in The Hill Times on February 23, 2022.