Championing peace by making Canadian corporations accountable
---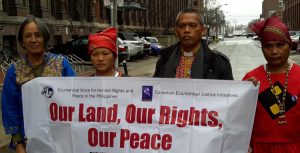 Can Canada champion world peace while simultaneously supporting Canadian extractive companies that are accused of human and ecological rights violations?
This question is of course rhetorical. Yet despite its stated interest in becoming more engaged in international peace and security, the Canadian government has yet to implement effective policies to improve corporate accountability abroad, despite multiple pleas to do so from the UN Committee on the Elimination of All Forms of Racial Discrimination.
The situation in the Philippines is one example. Residents of the resource-rich island of Mindanao have experienced grave human rights violations at the hands of state security and paramilitary forces that protect the interests of mining companies — including those headquartered in Canada — at the expense of the peoples' rights. This has exasperated a brutal civil war that has raged for decades and has driven dispossessed people to take up arms with the banner of the New People's Army (NPA) and other liberation groups in the region.
Canada has an opportunity to lend its diplomatic and legislative weight to help secure lasting peace in the Philippines and other countries in the Global South where Canadian mining companies operate.
Close to 200 Canadian companies operate in the Philippines and Canada imports $1 billion worth of goods from this country. As a key trade partner, Canada can offer much needed diplomatic support for the formal peace talks currently underway between the Philippine government and several liberation groups, including the NPA, a member of the National Democratic Front of the Philippines.
A five-member delegation from the Philippines toured Canada from March 20 to April 5 to speak with Parliamentarians and Canadians about the impacts of Canadian mining on their communities. Two members of the visiting delegation were Indigenous Subanen women from Mindanao. They allege that Canadian mining operations in their communities have led to contaminated drinking water, an increase in gender-based violence, and none of the economic benefits that were promised to their communities.
When representatives from Canadian civil society groups visited Mindanao in 2014 as part of a KAIROS-led learning tour, they reviewed credible evidence of numerous human rights violations allegedly associated with Canadian mining operations on the island, including kidnapping, arrest, torture displacement and loss of livelihood.
After reviewing evidence and listening to testimonies from affected communities, members of the tour called on the Philippine government to investigate these claims and cease all mining operations until the safety of the local people, including those opposed to the presence of large scale mining, can be assured.
Applying diplomatic support to resolve the civil war in the Philippines should be met with policy changes at home. The learning tour delegates also called on the Canadian government to appoint an independent extractive-sector Ombudsperson to monitor Canadian mining operations overseas, and legislate access to the Canadian courts for non-nationals who have been harmed by the international operation of Canadian companies.
An extractive-sector Ombudsperson would be able to independently investigate complaints, seek judicial support if companies fail to provide pertinent data to help with the investigation, and make recommendations to corporations and the Government of Canada — including the withdrawal or termination of government support, subsidy, promotion or protection. It would replace the Office of the Extractive Sector Corporate Social Responsibility Counsellor, which has been largely ineffective since it was established by the federal government in 2009.
We also encourage legislation that gives non-nationals, who claim to be harmed by Canadian extractive companies, access to Canadian courts. While there have been landmark cases in Ontario and British Columbia where courts have agreed to hear plaintiffs who claim abuse from security forces employed by Canadian mining companies, enshrining this access in Canadian law will help foster greater corporate accountability in countries with lax judicial systems.
If Canada is serious about brokering peace and security in fragile regions in the Global South it should take action now to ensure that the impacts that Canadian companies have on the communities where they operate are positive.
Connie Sorio is KAIROS Canada's Asia-Pacific Partnerships Coordinator. Bishop Antonio Ablon is with the Philippine Independent Church, Diocese of Pagadian City, Philippines.
Please chip in to keep stories like these coming.
---
Originally published on rabble.ca by Connie Sorio and Bishop Antonio Ablon.