Canada must act now to stop Duterte's war against the Filipino people
---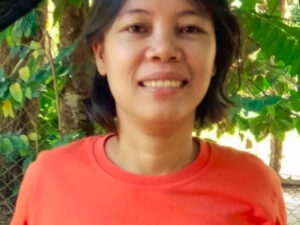 I work with human rights defenders and peacebuilders in some of the most dangerous places in the world. I fear for their safety, and sometimes my worst fears come true. 
This happened in August last year. Zara Alvarez, a well-known human rights defender and community health worker was fatally shot. Zara worked with KAIROS' partner, Ecumenical Voice for Human Rights and Peace in the Philippines (EcuVoice).
Her death was part of a pattern of rising threats, arrests, disappearances and deaths under Filipino President Rodrigo Duterte's so called "war on drugs" and use of "red-tagging," which labels human rights organizations as front organizations of local communist terrorist groups.
Zara was red tagged before she was killed.
Others have endured a relentless series of criminal charges, investigations and online attacks from the government, including journalist Maria Ressa, who recently won the Nobel Peace Prize for her courageous work in exposing the human rights situation in her country.
The human rights organizations, Karapatan and the National Union of Peoples Lawyers, have documented at least 418 cases of farmers, Indigenous peoples, human rights defenders, including 57 lawyers and judges, who have been killed between 2016, when Duterte came to power, and August 2021.
Canadians should find the situation in the Philippines particularly concerning.
The Canadian government has supported "counter-terrorism" capacity building in the Philippines which translates to a war against the Filipino people and human rights defenders like Zara. In addition, Canada diplomatically supports Canadian mining companies that are alleged to have contributed to human rights violations resulting from military and paramilitary crackdowns against local communities protesting their operations.
In Canada, churches and civil society organizations, such as KAIROS, have advocated for the implementation of human rights and accountability mechanisms from the Canadian government. Internationally, we have been calling on the UN Human Rights Council (UNHRC) to establish an independent, impartial investigation into human rights violations in the Philippines.
When the UNHRC failed to do so in the fall of 2020, The International Coalition for Human Rights in the Philippines, a global network of organizations, launched Investigate PH in early 2021 to raise awareness and demand that the world respond to the Filipino's war against its own people.
Investigate PH's International Commission released three reports this year, starting in March and ending September 13 in time for UNHRC's 48th session. The reports document intensifying political repression and human rights violations, and lack of domestic remedies to address the abuses.
The Third Report spotlights the violations of collective human rights to development, self-determination, and peace, and includes the impacts of the government's harsh military response to the COVID-19 pandemic.
Half the population lives in extreme poverty. The Filipino government's military response to the pandemic has exacerbated economic hardship and further criminalized the poor.
Millions of people have no access to water, food or employment because of the lockdown. More than 100,000 were arrested and detained for allegedly breaching the lockdowns. People have been red tagged and harassed by security forces for creating their own community kitchens.
Investigate PH calls on the world to act immediately.
On June 13, the International Criminal Court opened an investigation into crimes against humanity perpetrated by the Armed Forces of the Philippines. And on October 7, the High Commissioner in her report to the UNHRC acknowledged the need for a UN investigation.
Despite international recognition that the Philippine government is failing to take meaningful steps in stopping human rights violations, the Canadian government has remained publicly silent on the matter.
Canada has an opportunity to show leadership on the international stage by working with UNHRC members and other observer states to approve an independent, international and thorough investigation into the human rights situation in the Philippines, one of Investigate PH's key recommendations.
Another recommendation is to suspend all military and police aid to the Philippines, which Canada must do immediately. As it stands, Canadian dollars could be helping to fund Duterte's war on his own people.
Canada must also legislate mandatory measure to hold Canadian businesses accountable. This includes ensuring that Canadian resource extraction companies are not contributing to the war on vulnerable people. The federal government must legislate mandatory human rights and environmental mechanisms that hold Canadian companies accountable.
Zara was killed because of her work defending human rights and assisting the poor. Canada has a choice. It can either continue to be silent on this war on people like Zara, or speak out and hold the Filipino government to account.
Canada can and must make a difference.
---
Written by Rachel Warden, Partnerships Manager. Originally published in The Hill Times on November 29, 2021.