Call for bolder ecumenical commitment to justice and peace: reflections from 11th WCC Assembly
---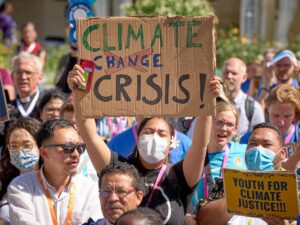 The recently concluded 11th World Council of Churches Assembly in Karlsruhe, Germany, was quite an experience for the more than 4,000 attendees who participated in the event, in its significance and richness in content. Participants included delegates from WCC member churches, observers, guests and interfaith representatives from a variety of world faiths.
The WCC Assembly, last held in 2013, is supposed to convene every eight years, but the most recent Assembly was postponed several times because of the COVID-19 pandemic. Pressing international issues, and the churches' role in addressing these issues generated much needed discussions.
Rising to the top of the concerns was the urgency of the church to take action on climate change and environmental justice. Delegates called for advocacy and actions to reduce emissions to sustainable levels for a just transition to a sustainable future. There was a strong call for climate justice for the most vulnerable, poorer communities and Indigenous Peoples, reflecting the historic responsibility of the most developed industrialized nations. A group of young people attending the Assembly led a march and rally for climate justice, encouraging the delegate body to make a forceful decision for action.
At the North America regional meeting, attendees identified the most urgent issues arising out the United States and Canada. These included: racism, white supremacy and white privilege; climate change and justice; poverty and wealth inequality; and reconciliation with Indigenous peoples.
Racism, xenophobia, and other forms of discrimination and hatred have become even more salient
in recent years across the world, due to the negative use of social media and anti-foreigner populist nationalist movements in several countries. Discrimination based on ethnicity, national origin, religion, economic status, gender, disability and other factors that intensify systems of exclusion, such as forced migration and the refugee crisis, undermine respect for the equal human rights of all people. Attendees agreed that in many ways, these issues are fundamentally interconnected by colonialism, capitalism, white privilege, land use, and the churches' complacency to both name them, and take strong actions to address them.
The lack of gender equity and leadership in the churches and its detrimental impact on transforming renewal of church and society was not lost on many Assembly participants, including two of KAIROS' Women, Peace and Security program partners. The experiences, participation and leadership of women are critical and urgent in the responses to the climate crisis, just peace and human dignity. Gender inequality is profoundly evident in church and faith institutions, as is the exclusion of those with disabilities, youth and Indigenous people. WCC members are challenged to walk the talk to address gender issues in their broad intersectionalities and to ensure as a priority, the participation of women in their approaches.
Also of interest to KAIROS' Women, Peace and Security program, was the crisis in the Middle East. Upheaval, violent extremism using religion as justification, occupation, racism, systematic violations of human rights, economic crises and other factors continue to contribute to an existential crisis for all in the region, particularly affecting vulnerable communities, including Christians who are facing displacement and mass migration. In Palestine and Israel, systemic discrimination against Palestinians continues to be enforced through forced displacement of Palestinian people from their homes, encroachment on and seizure of Palestinian lands to expand Israeli settlements and the presence of military bases in the occupied Palestinian territories. Recent suppression of several Palestinian human rights organisations by the Israeli authorities including criminalization, suspension of operations and harassment further contributes to the diminishing spaces for dialogue and advocacy based on values of justice and equal human rights for all.
In addition to the main program, the Assembly organized cross-border and interconfessional excursions for all Assembly participants, to meet local communities. I visited with a team of volunteers from a protestant church in the small town of Achen, who welcome and assist refugees with programs to help integrate them into the community. They also organized an exhibition by a volunteer photographer from Sea Watch, a German non-governmental organisation that operates in the Mediterranean Sea, notably by commissioning ships to rescue migrants. The exhibition was followed by a discussion regarding the refugee crisis in Europe, particularly those seeking entry into Europe through the Mediterranean Sea.
I also visited an ecumenical worship centre called the ARCHE (Ark), in the town of Neckargemünd in the state of Baden-Württemberg. The Arche is an ecumenical community, founded in 1974, where worshippers from the Mennonite Church, and the Roman Catholic Church worship under one roof. At the heart of the centre is a commitment to ecumenism, service and nurturing peace in the community. The congregations hold joint baptisms and ecumenical services once a month, and protestant services and Catholic masses three times a month separately but under the same roof.
"Ecumenical commitment can be very complicated. But, is this the way that it has to be?" said Tobias Bartole, the Catholic pastoral care worker. "This kind of commitment to ecumenism needs Christians who are cooled down in the spirit of baptism." Tobias referenced Ephesians 4:4–6, that we pray to the same God and are baptized under one name. We are all one, Christians united under one God and one baptism.
In addition to the main Assembly program, I attended other workshops, regional gatherings and other welcoming feminist spaces, met old peers and made new ones. It was particularly encouraging to see strong youth engagement within the WCC, and the bold challenges that they bestowed upon the WCC membership. These challenges to people of faith and conscience include increasing open spaces to consult and reflect on more inclusive ecumenical movements committed to justice and human rights.
#WCCassembly #karlsruhe2022 #climateprotest
---
By Jane Thirikwa, Global Partnerships Coordinator
Feature image: 2 September 2022, Karlsruhe, Germany: Activists demand attention to the climate crisis during a protest at the World Council of Churches' 11th Assembly in Karlsruhe, Germany. The Assembly's theme is "Christ's Love Moves the World to Reconciliation and Unity." Photo: Paul Jeffrey/WCC