BC Yukon Network Gathering Agenda, April 26-27, 2019
---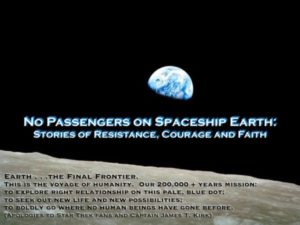 Many feel powerless and paralyzed by their own fear, grief, anger and even shame, because of the legacy we are leaving future generations. Everything is connected; all justice, environmental, and human rights issues, locally and globally, reflect certain values that must be challenged or lifted up, if humanity is to have any kind of shared future on planet earth.
We are all in this together. There is no planet B.
A sense of place/home is essential to our ability to move forward and walk a different path. And that sense of place and home needs to be rooted in the web of life which sustains us. We are not separate from that web, just one strand in it.
Faith means different things to different people. Some of us have a faith that is rooted in a belief in God, the Creator, Unknowable Essence, or in spiritual teachers such as Jesus, Mohammed, or Buddha. For others, faith is grounded in a belief in the Universe, the web of life, or the human spirit. Whatever faith is to you, it is always a choice to believe in something…
HOW THEN SHALL WE LIVE, AT THIS TIME AND IN THIS PLACE? This is indeed a KAIROS moment (a moment in time when change is possible) for humanity.
We will frame our time together around the importance of telling stories.
Three questions form the basis of the weekend gathering.
1. What are the stories of resistance we want to tell our children?
2. What are the stories of courage we will share to keep us strong for the struggle?
3. What are the stories of faith we will use to inspire and move us forward?
The BC-Yukon KAIROS community is grateful to the Coast Salish People, upon whose unceded lands this regional gathering will take place. All our relations!
Moments captured at the BC-Yukon Network Gathering: Photo Album 
Join with others who are working for #EverythingChange and the world we really want! We are all in this together. There is no planet B.
SCHEDULE
April 26- Mount Pleasant Neighbourhood House
Sign in or register, beginning at 4:30 pm.
All hospitality during the gathering including Saturday's lunch is included in the registration fee.
Story-telling begins at 7 pm  featuring these story-tellers:
ANDREW LARIGAKIS, architect, leader in sustainable design, active member of 350Vancouver.org
https://350vancouver.org
AUDREY SIEGL, sχɬemtəna:t, St'agid Jaad- an independent activist from the unceded lands of the Musqueam, has been active on grassroots environmental and social justice-political frontline movements. Audrey has worked on raising awareness on MMIW, DTES issues incl housing, the Fentanyl crisis, displacement and the connection between extractive industry projects and violations of FN, Land & human rights.
ROBERT WORCESTER, Suzuki Elder
https://www.ecopsychology.org/about-ice/members-of-ice/robert-worcester/
BETH DOLLAGA, international human rights activist, Migrante.BC member
April 27- St. Anselm's Anglican Church
Registration begins at 8:30am
Program and workshops from 9:15am- 5pm
6 workshops to choose from, led by the following people:
SHANNON NEUFELDT (KAIROS Member Relations and Network Coordinator)
https://www.kairoscanada.org/people/shannon-neufeldt
SARA ANDERSON (KAIROS Blanket Exercise Assistant Manager)
https://www.kairoscanada.org/people/sara-anderson
LAUREL DYKSTRA (Priest of Salal and Cedar Watershed Discipleship Community)
http://salalandcedar.com/about/rev-laurel-dykstra/
JESSICA STEELE, (COP 24 youth participant, environmental educator and climate change activist)
https://www.kairoscanada.org/canadian-ecumenical-community-supports-womens-participation-at-cop24
MAYA GUTTMANN (BCCIC Youth Delegate to COP 24)She has a bachelor's degree in Environmental Science from the University of British Columbia, where she focused on Ecology and Conservation Biology. She is fascinated by people's relationship to the environment and how these relationships drive dynamics in ecological systems.
JACKIE LARKIN, co-facilitated The Work That Reconnects (developed by Joanna Macy) retreats for eighteen years, bringing into her work a wide range of experiences as a educator,facilitator and activist in social justice and environmental movements.
RUTH WALMSLEY, member of BROKE (Burnaby Residents Opposing Kindermorgan Expansion), Quaker
DON WRIGHT, Outreach and Training Coordinator for Amnesty International Canada. Don works out of the Vancouver office, and in 2015 he participated in the Rolling Justice Bus tour to Fort St. John. Happy to have Don back with us, sharing his story and passion for justice!
SATURDAY WORKSHOPS:
"Sustaining Our Connection With Spirit and Justice-Making"
(Ruth Walmsley & Jackie Larkin)
What sustains our hard work for social and environmental justice and in defense of the living systems of Earth?  Share stories and practices that link spirit and action for justice, build community and deepen our sense of interconnectedness with all life.
"Watershed Discipleship"
(Laurel Dykstra & Shannon Neufeldt)
What is Watershed Discipleship? In a time of climate crisis, how do we respond faithfully and spiritually? How do we respond with integrity? Laurel and Shannon, drawing from the work of Salal + Cedar and from KAIROS respectively, will guide the group through an introduction to Watershed Discipleship that includes a deepening of three spiritual disciplines – knowing our place, knowing our traditions and knowing our story – that lead us to action in the world.
"Defending the Defenders"
(Don Wright)
Now is the time for justice for Indigenous peoples and groups defending territory, land, and the environment across Canada and around the world. Come learn about Amnesty International campaigns and actions that seek justice for past and ongoing environmental contamination that directly impacts Indigenous communities at Grassy Narrows and near Mt. Polley. Hear about their solidarity work with First Nations opposed to the Site C dam and other mega-projects, and take action in defense of territory, land, and environmental rights defenders in Guatemala, Honduras, and elsewhere.
"Indigenous Rights and Allyship: Called to Action"
(Sara Anderson and Shannon Neufeldt)
Do you know that there have been six Indigenous rights Commissions in Canada? All have done good work, and all have called on Canada to make changes. When the response to the Royal Commission on Aboriginal Peoples (RCAP) was evaluated by the Assembly of First Nations (AFN) 10 years later, only one of 440 recommendations had been implemented. Other Commissions ended in a similar fate. How can we change this record? How can we even track which Calls to Action have been acted upon? Who is holding Canada accountable? Come to share your knowledge of progress and gaps and to collaborate on how, together, we can take steps to hold Canada – ourselves – accountable.
"Climate Conversations: From Local to International"
(Jessica Steele & Maya Guttmann)
How can young people engage in climate spaces from the multi-lateral decisions of the UN Framework Convention on Climate Change (UNFCCC) to community-based climate action? Jessica (PWRDF-KAIROS) and Maya (BCCIC) will share their experience navigating the UN climate change conference, COP24, which they both attended in Poland in December of last year. Using the format of a Talanoa Dialogue, we will explore together how to engage in climate change discussions and climate action from the international to the local level.
Optional Saturday Offerings at St. Anselm's:
WORSHIP with Salal and Cedar Watershed Discipleship Community at 5pm
DINNER and JUSTICE SOCIAL at 6pm
an opportunity to unwind and reconnect after a busy day…
Stay for both or either!