Amplifying the call for peace
---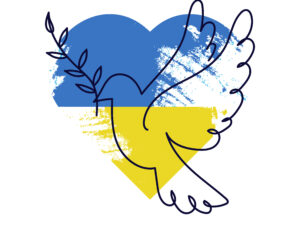 KAIROS joins member churches, global ecumenical movements, partners and people from around the world including from within Russia in calling for an immediate end to all acts of war and military aggression in Ukraine.
Canada and the international community must urgently pursue all possible efforts to resolve this crisis through non-violent, diplomatic means, and support antiwar and humanitarian efforts of civil society as well as do everything possible to guarantee the safety and security of the people of Ukraine.
We know that women, girls, and gender-diverse people suffer disproportionately in war. KAIROS joins women peacebuilders from around the world in calling for the meaningful participation of women, girls and gender-diverse people in all aspects of peacebuilding and conflict prevention, in accordance with UN Security Council Resolution 1325. Additionally, we call attention to the inhumane actions of militarized conflict and violence on racialized and Indigenous communities. We urge the UN, governments, humanitarian organizations and civil society to firmly embed intersectional and anti‐racism strategies into their responses to the current war.
KAIROS stands in solidarity with the civilians in Ukraine experiencing the terror and violence of war whose safety remains in peril. We stand with the hundreds of thousands of people who have been displaced internally and those who are leaving Ukraine. We condemn the racism that is being experienced by African and Asian populations in Ukraine and along its borders and insist on respect for the rights and dignity of all refugees and displaced peoples.
We recognize those who have experienced the horror and inhumanity of militarized conflict and aggression and are retraumatized by these global events. We stand in unity with all those in Russia and beyond who oppose this war and we seek to amplify the call for peace from around the world.
See statements from partners, member churches and networks:
Canadian Friends Service Committee
Canadian Catholic Organization for Development and Peace
Evangelical Lutheran Church in Canada
Global Partnership for the Prevention of Armed Conflict (GPPAC)
United Church of Canada and Moderator Statement