Access to clean water is a non-negotiable human right
---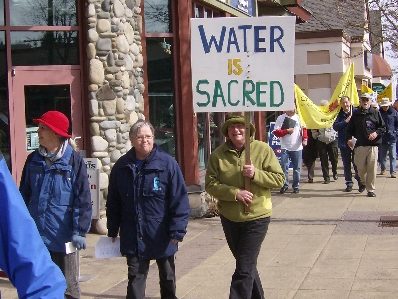 Anishinaabe Grandmother Josephine Mandamin co-founded the Mother Earth Water Walk in 2003 by walking more than 17,000 km around the Great Lakes. A member of the Wikwemikong First Nation in Ontario, Grandmother Josephine's concern over the pollution of rivers and lakes motivated her to raise awareness of the need for water protection.
These walks have been replicated across Turtle Island to raise awareness of the importance of water and to encourage water preservation. This Spring, the Wabanaki Water Walkers travelled over 857km from the Sipekne'katik River (Nova Scotia, Canada) to the Penobscot River in Nibezun (Maine, USA). On August 24, the Anishinaabe Sacred Circle began a Water Walk along the Sibi Kitchi Gami (St-Lawrence River) at Matane Quebec. It is scheduled to end in Ottawa in mid-September.
Access to clean water is a non-negotiable human right. Water Walkers want this gift of life to be protected. It is important to note that Water Walks are not protests or activist actions, but ceremonies. Walkers are walking for the water, to honour the water. The water walkers challenge us to take responsibility for the protection of the "giver of life" so that all future generations can enjoy clean water.
Inspired by Grandmother Josephine, Doreen Day wrote the Water Song to give everyday thanks to water for sustaining our lives and the lives of all living things.
Ne-be Gee Zah-gay-e-goo (Water, we love you.)

Gee Ne-gwetch-wayn ne-me-goo (Water, we thank you.)

Gee Zah Wayn ne-me-goo (We respect you.)
To learn more about the history of the Mother Earth Water Walks visit: http://www.motherearthwaterwalk.com/
To support or join the Anishinaabe Sacred Circle 2019 walk visit: https://www.anishinabesacredcircle.org/protocole