Connie Sorio
---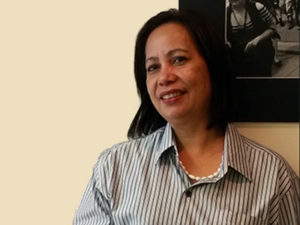 Manager, Migrant Justice Program
416.463.5312
Connie was born in the Philippines and moved to Canada in 1989.
Connie joined the ecumenical movement in 1997 with one of the KAIROS' predecessors, the Interchurch Action for Relief, Justice and Development.  
Connie has held different positions and responsibilities at KAIROS since then. 
Currently as the Migrant Justice Coordinator,  Connie is responsible for establishing new and nurturing existing relationships with like-minded church groups and civil society organizations mostly in Canada but also with migrant justice seeking groups globally.
Major components of the program are providing support and accompaniment to temporary foreign workers and ensures that their voices and positions are brought to bear on critical issues during roundtable discussions and campaigns here in Canada when physical participation are not possible. She has helped organized delegations and participation of temporary foreign workers in government meetings and roundtable on policy issues relating to the rights and welfare of foreign migrant workers.
In her spare time, Connie Sorio is a community activist, a seasoned organizer and a passionate human rights defender.