Connie Sorio
---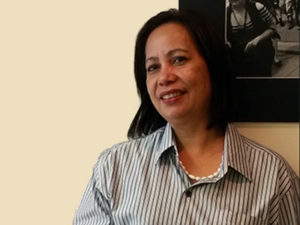 Migrant Justice Coordinator
csorio@kairoscanada.org
416-463-5312 Ext. 240
Connie was born in the Philippines and moved to Canada in 1989.
As Ecological Justice Partnerships Coordinator, Connie is responsible for establishing new and nurturing existing relationships with like-minded church groups and civil society organizations in the region (Asia-Pacific) on social justice issues. She also provides oversight to grants provided to partners in support of their work and ensures that partners' voices and positions are brought to bear on critical issues during roundtable discussions and campaigns here in Canada when physical participation is not possible. She has helped organized speaking tours, delegations and visits of Southern partners in Canada on human rights and the negative impacts of mining/resource extraction on communities and their food sources and livelihoods.
In her spare time, Connie Sorio is a community activist, a seasoned organizer and advocate for the rights and welfare of temporary foreign workers in Canada, particularly those under the Live-in Caregiver Program. She is a member of the Executive Committee of Migrante Canada and the International Coordinating Body of the International Migrants Alliance.